Macau casinos face additional smoking regulation before 2013
05-11-2011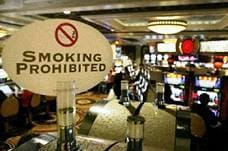 The gambling industry in Macau will face additional smoking regulation. The Health Bureau (SSM) announced that the government will release additional anti-smoking laws for casinos in the next months. Approximately 16% of the population of Macau smokes, which is a small decline compared to last year.
Smoking zones
As from January 2012, smoking is prohibited in public spaces. However, gambling parlors have been granted twelve extra months to create smoking zones. Those smoking sections need to meet technical restrictions and may cover up to 50% of their public area. "Both the air and damaging substances in the smoking zones need to follow our standards. Penalties will follow if casinos fail to meet those standards," according to the Health Bureau.
Lack of awareness
A recent study demonstrated that less than 40% of the participants were aware of the upcoming smoking ban in public spaces. This new law will be enforced in January 2012. The Anti-Smoking Union aims to inform people about the smoking regulation. Approximately 2,500 helpers will distribute promotional material on the indoor
smoking
ban. In addition, the Health Bureau will cooperate with the Tourist Office in order to inform visitors about the new law.