Joe Francis faces fraud and theft charges
06-02-2011
Soft porn producer Joe Francis has been charged with failing to settle a €1.82 million gambling debt. Francis owes the debt to
casino
tycoon Steve Wynn. The 'Girls Gone Wild' producer appears in court on February 16.
Gambling markers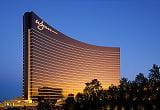 Francis took out €1.82 million in gambling markers with Wynn Las Vegas in exchange for
casino chips
. However, he didn't have the cash in his bank account to back it up. Nevada legislation treats unpaid casino markers as bounced checks. For that reason, Francis is accused of theft and using bad checks.
Joe Francis
Nevertheless, Francis claims that he never signed a casino marker. He has charged Wynn with attempts to exchange casino markers despite the fact that Francis already had closed his account. In addition, Francis has charged casino staff with failing to meet agreements on discounts.