Indebted students due to Cambodian casino scammers
15-06-2013
Cambodian casinos located near the border are tempting for Vietnamese punters as they are not allowed to gamble in their home country. Many students from Vietnam have been conned at those gambling venues, leaving them with huge debts. The situation has deteriorated due to the increasing number of gambling establishments near the Vietnamese border.
Illegal taxis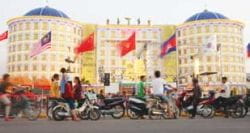 After being scammed themselves, many youngsters have started to lure other Vietnamese students into the gambling traps. Numerous youngsters from provinces near Cambodia cross the border to enjoy gambling. There are even
illegal motor bikers
who take Vietnamese gambling fans to casinos across the border. In reality, those 'taxi drivers' are working for the gambling venues in Cambodia.
Ransoms
"We are seeing parents traveling to the casinos to pick up their children on a daily basis. Mostly they are forced to pay ransoms before the criminals release their children," a police spokesperson commented. There are more than 20 gambling venues and 4 cock fighting arenas near the Vietnamese province of Tây Ninh.
Loan sharks
The illegal motor bikers offer
Vietnamese gamblers
promotions, including bonuses and free food. Gambling at those casinos is not very rewarding, which results in an attractive environment for loan sharks. However, many lenders abduct the indebted youngsters and demand ransoms from their parents. Most parents don't report such crimes as they fear the consequences.