Home-based casino raided in Winter Haven
13-04-2013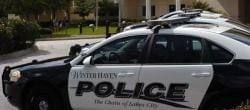 Winter Haven authorities have smashed a
home-based casino
and 29 persons have been arrested. Police officers seized gambling tables, dices, cards and financial documents. Ten suspects tried to escape, but police officers managed to arrest them. They also recovered a sum of $8,418, in addition to ecstasy tablets.
Drug charges
A police spokesperson revealed the names of the suspects from Winter Haven: the 43-year-old Kensel Hilliare, the 48-year-old Wilner Joseph and the 25-year-old Barry Estiverne. Etienne Lisson Jr., a Kissimmee resident, faces drug charges.
Gambling charges
The 54-year-old Cleryont Clerjuste, the 46-year-old Loumune Eglaus and the 36-year-old Bronnson Calixte are all Auburndale residents. The 32-year-old Mackenson Altidor, the 22-year-old Darrius Austin and the 32-year-old Fritz StFleur were among the other arrested persons. All other suspects face gambling charges.