Heroic deed in betting shop
02-02-2011
A soldier overpowered an armed robber in a
betting shop
in Acocks Green, Birmingham. "Soldiers have the reputation to be fearless and they are expected to remain calm during calamities. This soldier has proved to be a classical example as he managed to control the situation. He chased the robber and handed him over to the police," Judge Patrick Thomas QC noted.
Heroic deed
The robber stormed the betting shop while holding a firearm and he demanded cash. Robinson pursued the robber and handed him over to the police. The brave soldier commented: "It was an impulsive reaction and I was able to prevent the thief from taking any money. He will spend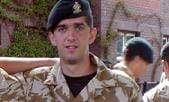 some time behind bars, which will impede him to rob innocent people. However, I have been lucky and I hope other people will not try to follow my example."
Robber
The robber, Shazad Mahmood (25), is a man from Birmingham. He was charged for theft, robbery attempt, possession of a cleaver and a fake
gun
. Mahmood is a drug addict with an impressive criminal resume. He committed his first crime at the age of 16.