Hawaiian beaten and robbed in casino toilet
01-06-2012
A Hawaii man has filed a lawsuit against the Main Street Station Hotel & Casino. Calvin Kawamura claims he was beaten and robbed in a restroom of the casino resort. He and his spouse, Jeanie, were spinning the reels of the one-armed bandits at the Las Vegas-based casino.
Robbed in casino toilet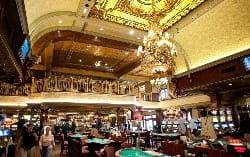 A homeless man hit Calvin Kawamura on the head in one of the casino restrooms. Kawamura became unconscious and was robbed by the homeless man. Kawamura claims that the hallway leading to the restrooms failed to provide sufficient security.
Hawaii themed
"Security should be priority number one given the fact that Main Street Station focuses on Hawaii visitors", read a statement from Kawamura's lawyer. "Main Street Station claims to make visitors feel at home with croupiers dressed in
Hawaiian
shirts."
Jackpot worth $130,000
Main Street Station Hotel & Casino offers an impressive number of gambling tables, in addition to over 800
one-armed bandits
. Gamblers can choose from video and reel machines. There are also a huge number of (progressive) jackpots up for grabs. How about a progressive jackpot worth more than $130,000!