Gambling couple leaves child in motel room
22-06-2011
Fife police has arrested a mother and her boyfriend after they left their 3-year-old girl in their motel room while they gambled at a nearby casino. The motel manager informed the police at approximately 02:00 AM.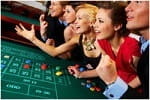 Crying girl
"We found a three-year-old girl crying on the parking place. She screamed for her mother," a police spokesperson said. The 22-year-old woman and the 21-year-old man had left the door of their motel room open. A motel employee found the little girl crying on the parking place.
Casino jackpot
The couple arrived at the motel at approximately 05:30 AM. They said they won a jackpot at the gambling parlor. For that reason they were unaware of what time it was. In addition, they told
police
they left their daughter alone because she was sleeping when they checked in at the motel. Their 3-year-old daughter is in state care.