Gambling bastion busted in Bangkok
22-12-2011
The Tao Pun casino in Bangkok's Bang Sue district was not a secret among the residents. However, it wasn't easy to raid the heavily-fortified gambling den. A specially-trained team was needed to bust the gambling bastion in Bangkok.
Injured by an electric fan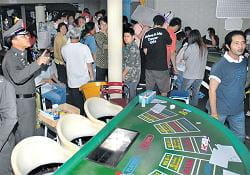 At the time of the raid, punters tried to run away and police officials used pepper spray. One police officer was injured by an electric fan in the skirmish. Police detained 199 suspects and found an impressive variety of gambling devices, as well as cash.
Gambling bastion
The
illegal casino
featured 13 baccarat tables, 350 decks of cards, in addition to over 1,200 casino tokens with a value of nearly $32,000. Police believe that the gambling den had a daily cash flow of approximately $1.44 million.
Carefully planned raid
A police spokesperson revealed that the operation followed after an extensive investigation. Tao Pun police cooperated with the Metropolitan Police Division 2 during the raid. The mission took approximately four weeks of planning. A special unit of 10 officials was trained to execute the operation.