Gambler threatens other casino player with knife
25-02-2012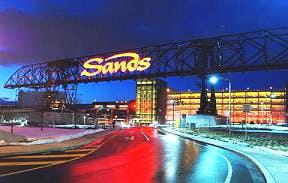 Manuel Robinson Rodriguez from New Brunswick got overheated and pulled a knife at the Sands Casino Resort. Police revealed that Josue David Ramirez was playing one of the slot machines at the Bethlehem-based gambling resort. Rodriguez took out a pocket knife and said: "You want something from me? Are you looking for trouble?"
Knife confiscated
Rodriguez had been pursuing his mother inside the gambling area of the resort, according to Ramirez. The 28-year-old Plainfield resident jumped off his chair and turned away, after Rodriguez showed the knife. Casino security came to the scene and confiscated the knife. Nobody got hurt in the incident and Rodriguez was arrested.
More than 3,000 slots
The Sands Casino Resort is located in Bethlehem, Pennsylvania. Las Vegas Sands Corp. is the company behind the massive gambling resort, which was inaugurated on May 22, 2009. The casino added table games to its gambling repertoire in July 2010, after receiving a license at the end of 2009. The hotel was inaugurated in May last year. Sands Casino Resort Bethlehem offers
slots
fans more than 3,000 machines.