Gambler shot in leg at Potawatomi Bingo Casino
17-06-2013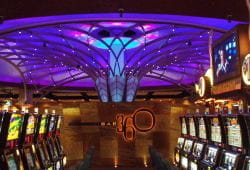 A woman from Milwaukee has been found with a
gunshot wound
after a shooting at the Potawatomi Bingo Casino. The 23-year-old gambler was hit by a bullet during a shooting at the Milwaukee-based gambling parlor.
Shooter arrested
A spokesperson for the Milwaukee Police revealed that her condition is not life-threatening. The 27-year-old shooter was booked at the Potawatomi Bingo Casino. Authorities refused to unveil the identity of both the victim and the suspect. The Potawatomi Bingo Casino was forced to close its doors after the incident, but was open for business the next day.
Panic after loud bang
A witness revealed that she was spinning the reels of a gambling machines at the time of the
shooting
. She heard multiple shots at the gambling tables not far away from the slots area. "Suddenly there was a
loud bang
. Everybody was shocked and some people started screaming. One of the security officers fled and subsequently we did the same," the woman commented.