Gambler bets with fake money at Grand Victoria Casino
24-05-2013
A casino based in Elgin has been hit by a
fraud case
at one of the gambling tables, according to a local media. Darnell Coleman reportedly used counterfeit money, in addition to a fake ID at the Grand Victoria Casino. The 30-year-old Sycamore resident is facing charges for fraud.
Tricked security cameras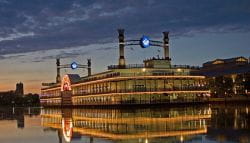 Coleman reportedly pretended to obtain money from a cash dispenser to trick security cameras inside the gambling venue. The 30-year-old gambler bet $100 bills at one of the blackjack tables, according to a spokesperson for the Grand Victoria Casino. Security officers identified the counterfeit bills.
Backslider
The next day, the Sycamore resident entered the gambling parlor again for a game of blackjack. Coleman allegedly used two fake $100 bills. Casino management informed the police and he was arrested, according to local media. Coleman was bailed for $10,000, and he has to appear in court on May 29.