French police shoots and kills casino robber
11-08-2010
French police fired at a young men who robbed a
casino
in the French town of Uriage-les-Bains. Karim Boudouda (27) didn't survive the shoot-out in southeastern France. The Rhône-Alpes region has suffered three similar robberies in the last three months. Boudouda has been found guilty for armed burglary three times. The police killed Boudouda in a deathly shoot-out after he robbed the casino.
Casino robbery
Boudouda and his partner in crime robbed the crowded casino and fled by car. During the car chase the first shooting with the police took place. One police official was scraped by a bullet. The car chase then headed to Bac, in the busy region of Villeneuve, where Boudouda lived.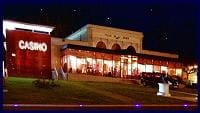 French police
Jean Philippe, Grenoble's state prosecutor, commented: "After the delinquents were halted in their car, both passengers abandoned the vehicle. The two criminals shot the police at least three times. Police officers responded with fire shots, one from within the police vehicle and the other from outside the vehicle, hitting Boudada's head."
Casino thief
Police found in the car a bag that contained approximately €20.000 - €40.000. Grenoble's state prosecutor stated that an autopsy needs to take place. The first results indicate self-defense. "Police found a machine rifle and assault gun close to Boudouda," Philippe added. The other criminal is still absconding. Police will intensify control in the district of Villeneuve.