Foreign loan sharks at Resorts World Sentosa
08-08-2011
Gamblers at a casino resort on the island of Sentosa were offered unlicensed loans, according to the police. Two women from Malaysia have been detained. Authorities believe it is the first case of illegal loans at a gambling parlor in Singapore. Police reports lacked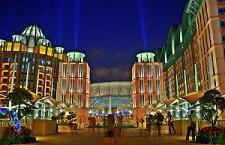 details about the extent of the money lending sting.
Deception operation
Both suspects were detained in a deception operation at the
gambling resort
. Officials from the Criminal Investigation Department and the Police Intelligence Department participated in the deception operation. A spokesperson declared that the casino resort had also been cooperating with the police. "We strive to offer our visitors a safe and secure gambling parlor."
Unlicensed money lending
Michael Ang, speaking on behalf of the Criminal Investigation Department, stated: "Unlicensed money lending at gambling venues is obviously prohibited. We will continue to prevent that criminals offer illegal loans at casinos."
Worried about gambling venues
"I knew that there were providers of unlicensed loans in Singapore, but I was worried about the situation in gambling venues," according to David Poh, head of the Moneylenders' Association of Singapore.