Convenience store robber arrested at casino
03-03-2012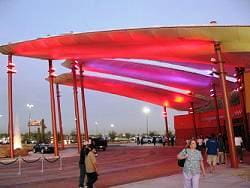 Chandler police believe that Junior Byers robbed a local convenience store. After the robbery, he decided to try his luck at a Chandler-based gambling parlor. Byers allegedly robbed two Circle K stores in Chandler, Arizona.
Blackjack after robbery
Chandler police informed Lone Butte Casino security staff about the convenience store robber. Security officers recognized Byers due to the description of the suspect. He was playing blackjack at the gambling venue. Police arrested Byers and he was taken to the Maricopa County Jail.
Gambling, dining and entertainment
There are five Lone Butte Casino venues in Arizona. You can find them in Chandler, Gilbert, Mesa, Phoenix, and Scottsdale. Gamblers can choose from
bingo
, slots and table games. The Cascades Lounge offers visitors live entertainment throughout the week. Enjoy bands and DJ's from Phoenix. On top of all that, Lone Butte Casino features 4 restaurants: Verona Chophouse, American Bandstand, Cafe 24/7 and Casual Dining.