Community service for Bruno Mars after casino incident
02-02-2011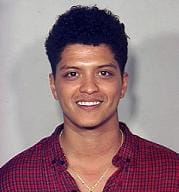 Bruno Mars has been sentenced to perform community services. The singer was caught with cocaine in his pocket. At that time, he was sitting on top of the world. Mars is a successful singer and he has been nominated for seven Grammys. On top of all that, he took home a huge cash prize at the blackjack table at the
Hard Rock Casino
.
Blackjack
After his successful performance at the blackjack table he went to the bathroom. Police officers found 2.6 grams of cocaine in his pockets. The Las Vegas District Court has sentenced Mars to perform 200 hours of community service. In addition, he was ordered to pay a fine and he needs to take random urine tests for one year. Mars will also have to attend CA meetings. The singer faces prison sentence if he fails to stay clean for a year.
Casino incident
The Hawaiian-born singer stated that he had committed an awful mistake. He claimed that he had never used drugs before. He should focus on his singing career and continue to play
blackjack
. He could have been condemned to a prison sentence of four years. This year's Grammy Awards will take place in Los Angeles on Sunday, February 13.