Christmas miracles do happen
27-12-2011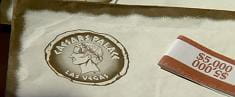 Mitch Gilbert, a Greenwood Village resident, came across $10,000 at the Las Vegas airport and decided to trace the owner. "That weekend I got lucky at a casino. When I was on my way home, I found two envelopes that each contained $5,000. After opening them, I decided to inform the airport straight away. I wanted to set a good example for my children," Gilbert said.
Persistence pays off
The airport refused to unveil the name of the owner, but the honest finder insisted. Eventually the customer service employee revealed that a man from El Paso (Texas) had lost two envelopes filled with cash. "It was crystal clear that he was the owner of the
money
," the Greenwood Village resident commented.
Unforgettable honesty
Gilbert stated that he transferred the money to the owner's bank account. Ignacio Marques had won the cash at Caesars Palace in
Las Vegas
. He lost the envelopes full of cash when he was rushing to catch a plane. "I will never forget his honesty. Not many people would have done the same," Marques stated.