Chinese police smash illegal gambling parlors in Sanhe
18-10-2011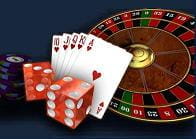 The Ministry of Public Security has announced that police officials have arrested 285 suspects on illegal gambling and prostitution charges. More than 400 police officers participated in the operation, which targeted 8 gambling parlors and one prostitution sting.
Gambling parlors and prostitution sting
The operation was the result of complaints from local residents about gambling dens and a prostitution ring in their neighborhood. Ministry officials refused to provide information regarding the timing of the bust, neither if there was a connection between the
gambling
parlors and the prostitution sting.
Crack down on illegal gambling
In the statement, the ministry revealed that the majority of the punters are Beijing and Tianjin residents. Furthermore, the ministry declared to hunt down providers of illegal workshops, black markets,
betting
and prostitution rings. They will also focus on eliminating their 'protective umbrellas'.