Casino trip takes the life of two Canadians
05-03-2012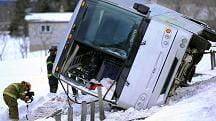 Two seniors from Quebec have died in a bus crash near Plessisville, while 44 passengers were injured. The bus, headed to a gambling parlor in the United States, missed the turn and flipped over on its right side. Maurice Turcotte (67), a Stratford resident, and Denise Jalbert-Doyon (70) from Thetford Mines didn't survive the crash.
No other vehicles involved
A police official stated that it was premature at this point in time to determine the cause of the accident. There were no other vehicles involved in the crash. Automobile Insurance Board investigators came to the scene to examine the crash. Most of the
injured
passengers were older people from the Beauce region, according to the police.
Slippery road
It was rather windy at the time of the crash and the situation had become dangerous due to snow and rain. The bus took off from Saint-Georges-de-Beauce and was on its way to a gambling venue in the US. Autocars La Chaudière, the company that operates the bus, recently checked the bus and revealed that the driver was very experienced.