Casino supervisor forced croupier to wager
03-05-2012
An ex-croupier claims that she was forced to play poker after working hours at Freddie's Club Casino. Her supervisor even forced her to wager her own money. Ruby Jumamil needed to play poker after working hours in order to attract other players. The Filipino immigrant claims that her supervisor forced her to play 6 hours or more on a weekly basis.
Gambling loss of $2,100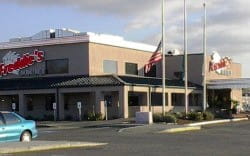 "She preferred to spend time with her baby instead of gambling after working hours," read a statement from her lawyer. The minimum wage worker gambled away approximately $2,100 in three months. "The casino clearly exploited my client," according to Jumamil's lawyer.
Dealer support
Freddie's Club Casino decided to fire Jumamil, after she allegedly committed fraud. Lawyers for the casino stated that workers are stimulated to offer 'dealer support'. Freddie's Club Casino paid its employees when they wagered during working hours (including breaks). Court records also show that gambling
casino
employees weren't paid after working hours.
Card games, restaurant, live music
The Fife-based gambling venue offers players such card games as blackjack, Ultimate Texas Hold'em, Spanish 21, Emperors Challenge,
Pai-Gow Poker
, and Bust Me Blackjack. Freddie's Club Casino also offers a restaurant, in addition to live sports events on big screens. The Scottish gambling parlor treats visitors to special events, such as happy hour, ladies nights, and live music.