Brinks courier shot at Calder Casino & Race Course
23-08-2011
A Brinks truck guard has been shot at the Calder Casino & Race Course in Miami Gardens, Florida. The incident took place Sunday afternoon and the South Florida Violent Crimes Task Force has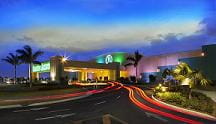 arrested four suspects.
Stolen pickup truck
The Brinks courier was shot when he left the casino after a scheduled stop. The Miami Police have published a picture of a vehicle connected to the incident. It concerns a grey car that was parked near a department store in Miami Gardens. The four men took a pickup truck from the
car park
, where they targeted the Brinks truck, according to the police.
Fatal robbery
CCTV footage demonstrated how one of the suspects entered the gambling venue. The suspect took off in the pickup truck, after he had shot and robbed the Brinks truck courier. Police officials found the stolen vehicle at El Palacio Sports Hotel & Conference Center. The truck courier died in a nearby hospital. It remains unclear if the four suspects managed to steal any cash from the Calder Casino & Race Course.