Bizarre robbery at Vegas casino resort
06-08-2011
An incident at a Las Vegas-based casino resort has ended with one man death. A New York resident pushed the thief away who had taken his wallet. The robber fell against an elevator and died two days later from his injuries.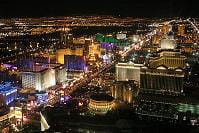 Robbery at Vegas casino resort
The incident took place on July 7, according to the police. The thief stole several wallets from the hotel room. He was caught by the tourist who decided to chase the robber. The hotel guest pushed the thief away as he wanted to hit him. Subsequently the tourist took his wallet and went back to his room, leaving the thief unconscious behind.
Thief dies from injuries
Hotel employees found the unconscious robber in the area close to the elevator. He was sent to a nearby hospital. The next day, the hospital determined that the man died from injuries. At first, authorities assumed that he died due to medical reasons. The man passed away July 9, while nobody was
arrested
.