Balotelli shares casino win with homeless
30-04-2011
Manchester City player Mario Balotelli has handed out £1,000 to a beggar outside a casino. The 20-year old enfant terrible won £25,000 at the 235 Casino. Balotelli signed a five-year deal with Manchester City which rewards him £100,000 a week. The Italian striker is renowned for his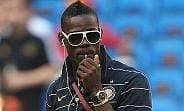 generous donations to homeless people in Manchester.
Casino win
"Balotelli usually gives £20 notes to the Big Issue sellers. Mario is an extremely generous person. This time he rewarded a beggar with a pile of notes. The tramp was absolutely speechless and the windfall represents a small fortune for the homeless man," a source revealed.
Balotelli
Despite his generous donations to homeless people, some club bouncers have another perception of the City striker. His luxury sports car was crashed by doormen after Balotelli had
tormented
them.