Baccarat cheaters from South Korea behind bars
11-05-2011
A man and woman from South Korea defrauded the Foxwoods Resort
Casino
in Connecticut. They now have been sentenced to jail. Young Su Gy (60) and Wookyung Kim (34) played a Macao variant of baccarat at the Foxwoods Resort Casino.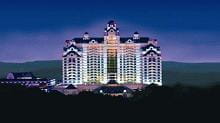 Baccarat cheaters
Gy switched cards by using a holdout device, which he hid in his sleeve. Kim distracted the casino employees while Gy performed his scam. Both Kim and Gy placed bets on the games and won thousands of dollars.
Behind bars
Gy has been sentenced to 1,5 year in jail, while Kim faces 1 year and 1 day behind bars. Both scammers are also sentenced to 3 years supervised release. In addition, they need to pay a fine of $870,505. Both fraudsters faced a maximum sentence of twenty years. Kim and Gy were busted at the end of last year and confessed their
scams
last February.