Arson fire at Mexican casino claims the life of 53 people
26-08-2011
Mexican authorities report that at least 53 people were killed after a group of armed men set a casino on fire. The Monterrey-based gambling venue was drenched with gasoline, causing a huge blaze in the bingo hall. Authorities describe the arson fire as a 'terrorist attack'.
Bloodiest incident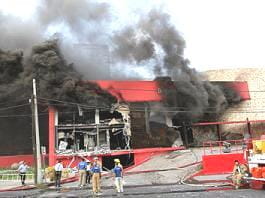 Rodrigo Medina de la Cruz, governor of Nuevo León, revealed that the blaze claimed the life of at least 53 victims. It is the bloodiest incident at the capital city of the state of Nuevo León. The northeastern city has faced brutal drug violence in the last few years.
No direct connection to drug cartels
Authorities fear that the war between drug cartels will lead to more killing in
Monterrey
. However, there were no direct links to drug cartels. Approximately 80 people were in the gambling parlor when it was set on fire.
Blaze expanded quickly
An unidentified witness commented: "A group of six armed men entered the casino and started insulting people, while using their firearms. They sprayed the bingo section with gasoline. People were fleeing as the blaze expanded quickly. Those who didn't manage to escape were killed in the fire."
Deadly fire Casino Royale
CCTV footage of the casino demonstrated how the huge flames forced firemen to move bodies by using their feet. One firefighter seemed to use a crane to rescue people. Massive flames came out of the casino. The doorway of the gambling venue was completely black as a result of the blaze.