Arson at Treasure Bay Casino and Hotel
05-10-2011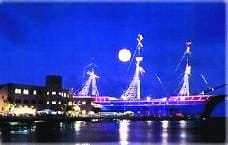 The Treasure Bay Casino & Hotel in Biloxi has suffered two arson fires. Biloxi Police have arrested one suspect. Casino staff immediately informed the police and fire-brigade after detecting the first blaze. They managed to extinguish the fire quickly, after which investigators found that someone intentionally had started the fire.
Accused of arson
Only one hour after the first blaze, the casino suffered another fire. An investigation determined the cause to be arson. Investigators declared that both blazes were identical. They also found that Gabriel Alexander Cameron (22) was entering and leaving the two sections just before both blazes started. Police officers
detained
the Biloxi resident and he is accused of arson.
Treasure Bay Casino & Hotel
Players can choose from more than 800 slot machines, alongside classic casino games like blackjack, baccarat, poker, roulette and craps. The gambling resort also features five restaurants, a hotel and meeting facilities. Treasure Bay Casino & Hotel offers visitors a responsible gaming environment.