Armed robbers target Monterrey-based casinos
11-06-2011
A group of armed men have
robbed
four casinos (Hollywood Entertainment, Casino Royale, Red and Miravalle Palace) in Monterrey, Mexico. The group threatened the casino visitors, most of them female, and ordered them to lie down on the floor.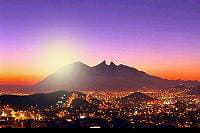 Armed robbers
They first targeted the Hollywood Entertainment establishment, where they fired gunshots into the air. The gangsters ordered all persons present to lie down on the floor. After taking money from the cash registers they left the building, which was heavily damaged by the gangsters.
Gangsters
Casino Royale was the second parlor they robbed, leaving one person injured behind. The Red casino, which is located near the Hollywood Entertainment casino, was robbed similarly. One of the robbers burst into the Miravalle Palace, which was also damaged. Establishments near the robbed casinos closed their doors as they feared that the robbers would return. The gangsters took off in small trucks.
Monterrey-based casinos
Monterrey authorities have examined CCT footage of the casinos. Soldiers and police agents rushed to the casinos but they failed to catch the robbers. Gun shots were heard in all four
casinos
and many bullet casings were found.