Armed man demands $1 from casino visitor
02-01-2012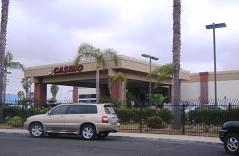 A robber has demanded $1 from a victim outside an Oceanside-based gambling parlor. The thief claimed he was carrying a firearm and forced the casino visitor to hand over one Dollar. Nevertheless, the brave man refused to give the cash and the robber decided to leave the scene, according to police reports.
Robbery over $1
Police officials are examining the attempted robbery outside the casino in Oceanside. The armed man had already left the scene when the police arrived. The suspect is still on the run after his failed attempt to rob the casino gambler. He didn't harm the victim and fled without the demanded $1.
Poker champion robbed
A robbery is always a traumatic experience, but this time luck was on the victim's side. Other casino gamblers were less lucky. Jonathan Duhame was also the victim of a
robbery
. The 23-year-old poker champion was beaten and robbed in his home in Boucherville. Robbers stole various items, among which the 2010 World Series of Poker bracelet and $667 in cash.