Armed duo robs Deuces Casino
29-01-2012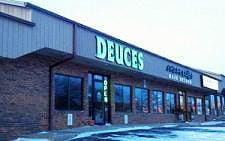 The Deuces Casino in Sioux Falls has been robbed. Two armed suspects visited the gambling venue at 4709 East 26th Street. One of the men used his gun to threaten the casino cashier. They left the scene after taking an unknown amount of money.
Black-dressed robbers
One of the male suspects stands between 5 feet 8 and 5 feet 9. The man of average build was seen in a dark-colored balaclava, black pullover and dark-colored sweatpants. The other
robber
stands approximately 6 feet. He also wore a dark-colored balaclava, black sweatpants and a dark-colored sweatshirt.
Low blood pressure
In 2010, Lapete Hicks (35) robbed the same casino. He is now serving 50 years in the Minnehaha County Jail. Hicks is a diabetes patient and claims a lack of snacks. For that reason, he demands damages worth over $90,000. Hicks claims that he collapsed in prison due to a low blood pressure. One of the prison officers stated that Hicks should buy his own snacks to control his blood pressure.