Another robber targets Crown II Casino
11-01-2012
Sioux Falls Police are looking for an armed man who robbed a local gambling parlor. According to the police, a white man entered the Crown II Casino through a door at the west side of the building. In no-time, he managed to find the till.
Dark-colored firearm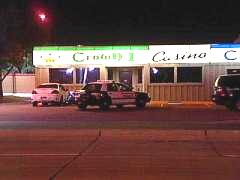 The armed robber threatened the cash register clerk and demanded cash. He used a dark-colored firearm, after which the clerk handed over an unknown amount of money. Subsequently, the suspect fled the scene on foot.
Robber with mustache
The suspect is described as white and around 50 years old with a grey mustache, according to police reports. He stands approximately 6 feet tall and the police estimates that he weighs around 230 lbs. Witnesses revealed that the suspect wore a dark cap, black sunglasses, a striped coat and blue-colored denims. Sioux Falls Police is asking for anyone to come forward with any information related to this incident.
Unarmed robbery
In September last year, another native American man robbed the Crown II Casino. The suspect threatened a casino employee and fled the gambling parlor with an unknown amount of money. Police reported that the
robber
was unarmed and nobody got hurt.