4 arrests in casino employee murder
13-04-2011
Police have arrested four suspects in relation to the murder of a gambling parlor employee in Chinatown. The 4 arrested men work at several unregulated
casinos
. They allegedly killed a man earlier this month. The 42-year old victim was a casino employee and he allegedly stole cash at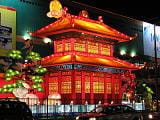 the gambling parlor.
Victim
The victim's tattooed body was found in a car park close to some basketball grounds. He was taken to a hospital but he didn't survived his injuries. Police released a Crime Stoppers bulletin in order to determine how the man was killed. The bulletin also featured a photo of the victim's tattoo.
Murder
Nguyen was detained at the police station, while the other three suspects were arrested at a train station. Post-mortem examination didn't reveal the cause of death. The identity of the murdered man remains unclear.