Money management in Blackjack
Blackjack money management means different things to different players. For some, the term describes a betting system or a method of betting in blackjack that increases your chances of beating the house. Other players use this term to describe how they manage their capital or blackjack 'bankroll'.
Knowing how to manage your money is therefore crucial to optimizing your chances when playing against the house edge of the casino.
Try blackjack money management at 32 Red
32 Red is a great casino, offering a $32 bonus with every $20 you deposit.

Play blackjack now at 32 Red
Constant house edge
Some players believe that playing following a particular method can reduce the casino's edge and eventually favor them. This idea is simply not true. It is comparable to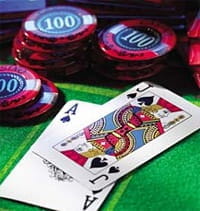 thinking that paying a double monthly mortgage payment one month and then skipping a payment two months later can influence the rate of interest that you pay. This is obviously unfounded and doubling the amount you bet twice in a row and then placing a single bet will have no effect on the house edge.
The aim of money management is to increase your betting when you are winning and decrease your betting when you are losing. This is easier said than done, since you never know how long a winning or losing streak will last until the game is over
Money management
In essence, money management is about managing and maximizing your capital, also known as bankroll. Money management systems do not affect your chances of winning a particular game, but they do help to limit the risk your bankroll is exposed to. This will allow you to extend and thus maximize your "bankroll".
Loss and earning target limits
Firstly, you should set loss and earning limits. The earning limit works according to a sliding scale that increases as your earnings increase. This allows you to continue  playing when winning, without having to stop at a predetermined amount. Loss limits work on a sliding scale once you've won. It is a way to ensure that you leave with at least a percentage of the money won at the blackjack table.
The benefits of such a system may seem questionable at first. But keep in mind that the secret to successful money management is discipline. It is necessary to be disciplined when playing any casino game. As with poker, in blackjack it is important to bet the correct amount when the cards are in your favor.
Use your common sense
Managing your bankroll means correctly forecasting expenses. Most of us manage our household budget by anticipating daily and monthly expenses. It is important to apply the same logic to your casino budget. Do so effectively, and the rewards can be remarkable.
And with all forms of gambling, only ever play with an amount you know you can afford to lose.
Effective budgeting
For instance, when you plan a holiday in Las Vegas, you must set a budget for the amount you will spend playing. This budget should be separate from your other expenses, and must always be an amount that you can afford to lose. This is your game capital, or bankroll, and you must stick to that amount.
Split your bankroll by the number of days you plan to spend at the casino. Place your daily budget in an individual envelope for each day. At the end of each day, put all your winnings or what you have left into the envelope. This is the sum of money that you can keep.
Divide your casino bankroll into a number of game sessions. Do not risk your entire bankroll in one gaming session, and be sure to take a break in between blackjack sessions. It is easy to leave the casino once your bankroll is depleted. It requires discipline to leave when you are in a winning position.
Discipline and control are the two factors that distinguish winners from losers. If you fail to learn how to manage your bankroll, the casino will teach you the hard way.
Try blackjack money management now at 32 Red