Ukash casino deposit and withdrawal guide
Ukash is a revolutionary payment system which enables those unable or unwilling to use a credit card, bank account or e-wallet to make online purchases to do so using cash. The idea is simple: you go to a Ukash-supported shop, purchase a Ukash voucher, and use the code from that voucher to make online purchases.
In the case of online casinos, not only can it be used to make deposits in your casino account, many only casinos offer you the chance to make online withdrawals as well. If you order a Ukash Out Mastercard, you can even withdraw the funds as cash.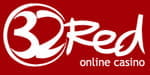 Ukash is supported by most leading casinos, including 32 Red Casino.
Ukash offers its customers the following advantages:
Cash payments online – no credit cards, bank accounts or e-wallets required.
Anonymity – you don't need a Ukash account to make a deposit.
Prepaid Mastercard – use ATMs to withdraw your winnings.
Accepted by most major casinos, and thousands of retailers.
Also accepted by e-wallet providers such as Neteller.
How does Ukash work?
Here's how Ukash works:

Buy a voucher from a store.
Use the voucher for other purchases, or add it to your Ukash Out or NEO Mastercard.
Operating costs
Ukash is largely free to use. Ukash itself will not charge for purchasing or redeeming a voucher, provided the transactions occur in the same currency.
However, when using Ukash, the following may apply:
Operators and retailers accepting or issuing vouchers may charge their own separate administration or service fees.
Where currency changes are involved, Ukash will apply its own exchange rate, which is typically lower than the market value.
Ukash's two prepaid Mastercards, Ukash Out and Ukash NEO, are subject to their own fees. You can read more about these later on.
Depositing funds in your 32 Red Casino account via Ukash is incredibly simple. Indeed, you don't even need a Ukash account to do it.

To deposit funds in your Ukash account:
Visit the 32 Red Casino website, create an account and install the software.
Purchase a Ukash voucher via a store.
Open the 32 Red Casino software and log in.
Click on the 'bank' button.
Click the 'deposit' tab.
Locate 'Ukash' in the list of deposit methods, and click the 'deposit' button.
Enter the voucher number and value, and click the 'next' button.
When prompted, confirm that you wish to proceed.
The funds have now been deposited in your account.
Withdrawing funds via Ukash functions in much the same way as purchasing a voucher. When you request the withdrawal, you receive a voucher at the end.
Please note that this voucher can only be spent online at retailers that support Ukash. If you wish to withdraw it as cash, you will first need to withdraw it as a voucher, then apply for a Ukash prepaid credit card.
To withdraw funds:
Log into the 32 Red Casino software.
Click the 'bank' button.
Click the 'withdrawal' tab.
Enter the amount you wish to withdraw.
If Ukash isn't listed as the preferred payment method, click the 'change method' link.
Select Ukash from the list of methods, then tick the box saying you agree to the terms and conditions.
Click the 'next' button.
If prompted, confirm your contact details, and click the 'next' button again.
When asked to confirm if you wish to use Ukash as a preferred payment method, click 'next' again.
Confirm the withdrawal by clicking the 'withdraw' button.
32 Red will issue you with a voucher for the amount via email.
Please note that the voucher won't be issued immediately. Should you change your mind, you have a period in which you can reverse the transaction and have the funds restored to your casino balance. To do this:
Open the 32 Red Casino software and log in.
Click the 'bank' button.
Select the 'reverse withdrawal' tab.
Provided the transaction hasn't been processed, the amount available will be shown. Select 'reverse all' to reverse all pending transactions, or 'other' to reverse a specific amount.
Click the 'next' button, then click the 'reverse withdrawal' button when prompted to cancel the transfer.
The great advantage of Ukash is that unlike other payment methods, you don't need to register for an account to send or receive funds via a voucher. But if you wish to redeem your vouchers as cash, or use the funds with retailers that don't support Ukash directly, you'll need a Ukash prepaid Mastercard.

In both cases, you will need to register for an account:
Visit the Ukash website.
Click the 'register' link.
Fill out your personal details on the form, including the CAPTCHA code.
Click the 'next' button.
Ukash will send you a verification link in an email to the address you provided.
Click the link to verify your account.
A new page will open. You can either provide details about yourself, or go to your Ukash account.
You'll now be taken to your profile.
Once you have set up an account, you can then apply for either type of card:
Log into your Ukash account.
Click the 'Spend Ukash' button at the top.
Click on the type of card you wish to apply for, and follow the onscreen instructions.
Ukash Out cards are physical Mastercards, sent to your address and linked to your account. Because they are physical, they can be used at ATMs or in physical shops.
Ukash NEO cards are virtual credit cards. Instead of being sent a card, you will be given a credit card number, CVC number and expiry date. This enables you to make credit card purchases online. However, because it is not a physical card, it can't be used offline.
Both types of card have costs associated with them, as described in the table below.
Ukash prepaid Mastercard costs:
Action
Ukash Out physical card
Ukash NEO virtual card
Purchase price
£10.00/€12.00/$15.00
Varies depending on country and amount
Cash withdrawal flat fee
£2.00/€2.50/$3.00
N/A
Cash withdrawal currency conversion
2%
N/A
Minimum balance/deposit
£5.00/€5.00/$5.00
£20.00/€20.00
Load fee
4%
N/A
Administration fee per month
£3.00/€4.00/$5.00
N/A
Dormant account fee per month
1st year: £10.00/€4.00/$5.00

2nd year: £15/€17.50/$20.00
N/A
Close account
£10.00/€12.00/$15.00
N/A
Note: Ukash is also accepted as a funding method by e-wallets as well as online casinos. So if you have an existing pre-paid Mastercard linked to an e-wallet account, it may be cheaper to use a Ukash voucher to fund that, instead of applying for a Ukash card.
Conclusion
Although Ukash is largely redundant for anyone willing and able to use a credit card, bank account or e-wallet to fund their casino account, it's a great alternative for those that don't. As long as you have a store that stocks Ukash accounts nearby, you can buy a voucher using cash, deposit it in your casino account quickly and securely.
Finally, here are some facts about Ukash:
420,000 outlets worldwide in over 55 countries.
Has an extensive list of retailers across the globe.
Based in London in the United Kingdom.
Regulated by the UK Financial Services Authority (FSA).
Almost completely anonymous
Customer support open seven days a week