The most popular gambling games
Gambling is one of the world's most popular and oldest forms of entertainment. Researchers have unearthed evidence that humans have been gambling for thousands of years. Gambling was a popular form of entertainment in the ancient Roman, Egyptian and Chinese civilizations.
Indeed, many of today's most popular games are themselves hundreds of years old. Blackjack, for instance, dates back to the Seventeenth Century, but is played by hundreds and thousands of people online each day.
Given its long and fruitful relationship with mankind throughout history, it seems strange that there are governments who would have banned. Despite this, its millions of fans ensures gambling continued survival. It's not just a hobby; it's part of our cultural heritage.
This guide principally deals with today's five most popular online games of chance. It looks at the history of each, and gives you a brief overview of their workings. If you're wondering why we haven't included poker in this list, it's because poker is recognised as a game of skill, and not a game of chance.
For more information on each, we recommend you consult out games rules section.
1. Blackjack
The most popular online gambling game at the present time is Blackjack. Blackjack offers the player the best chance of winning of any casino game. The origins of blackjack can traced back to Seventeenth Century France.
Blackjack is also known as '21'. This comes from the main goal of the game, creating a hand with a value of 21. The player with the best hand wins. Exceeding 21 means you go 'bust'.
Blackjack is easy to learn, and a suitable starting point for players new to online gambling. For more information on blackjack, check out our blackjack rules guide!
2. Roulette
The second most popular game on our list is roulette. Roulette is French for 'little wheel'. There are two variants of roulette; the popular European roulette, and the less common American roulette.
Roulette is all about predicting in which numbered pocket of the roulette wheel the little ball will land. All sorts of predicting combinations are possible. Roulette is one of the easiest online gambling games to learn, making it one of the most popular online gambling games.
The European and American roulette games are pretty much the same. The only real difference is that the American Roulette board has one extra number, double zero. This gives the player a bigger edge when playing European roulette.
3. Craps
If Hollywood is to be believed, craps is the most popular gambling game out there. In nearly every gambling-related movie, you'll see scenes of high rollers and beautiful ladies 'rolling the bones' at a craps table.
Before you throw the dice, you have to bet on the outcome of the roll. Indeed, you don't even need to throw the dice yourself; you can always bet on someone else's roll.
Playing craps isn't as easy as it looks. Even the terms used during a game of craps can be hard to understand. We therefore recommend you read our craps game rules guide before hitting the tables.
4. Slots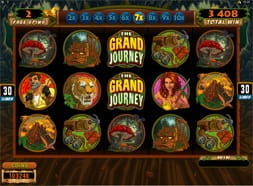 No guide to the most popular casino games would be complete without giving slots a mention. Indeed, slot machines aren't merely restricted to casinos. They can be found in bars, pubs, arcades, hotels, restaurants and many other entertainment establishments across the globe.
Playing slot machines is one of the most socially acceptable forms of gambling. The huge variety of slot machines ensures it's one of the most-played forms of gambling ever.
Slots are one of online gambling's staple game's too. They're easy to learn if you're a beginner. However, many feature interesting progressive jackpots, which often attracts the interest of seasoned gamblers, too. These jackpots frequently exceed $1 million. The goal of a game of slots is to create a winning line of symbols. The sum you receive varies, based on the type and number of symbols matched.
For the winning combinations, you can check the payout table at the given slot machine.
5. Keno
Keno is another popular gambling game. Keno has been around for ages. Just like slot machines, Keno can be found in bars, pubs, restaurants, casinos, and so forth. That said, Keno isn't quite as popular as slot machines are.
Keno looks like bingo. Keno is very easy to learn, and frequently offers interesting prizes. The Keno player predicts which numbers will be drawn by the Keno machine. The more numbers you predict successfully, the higher the payout.
If you've thinking of taking up online gambling as a hobby, then chances are you'll want to play one of these games. If so, then good news – all of the games above are easy to play, and suitable for newcomers to online gambling.
These five games are some of the most popular games the online gambling industry has to offer.
Next chapter: History of online gambling