Casino bonus guide
One of the major benefits of casino gambling online is that the casinos usually offer a wide array of interesting bonuses. Casino bonuses are given away by every casino featured on this website.
We strongly recommend that all online casino newbies take a closer look at the bonuses a casino offers when deciding to join one. And to help you know what to look out for, we've compiled this guide.
The welcome bonus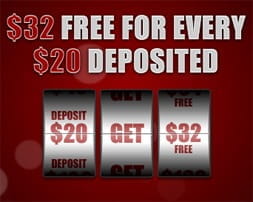 Generous welcome bonuses are one of the major advantages of online gambling. When a new player makes their first deposit, the casino will offer them a certain percentage on top of their deposit.
The amount this welcome bonus is applied to is often capped, but the percentages are usually generous. In some cases it can be more than 100%! So if you make a first deposit of $200 and the welcome bonus is 100%, you'll have $400 to play with!
For the player, the advantages are obvious. But the casinos benefit, too. Not only do such bonuses increase the chances of a customer signing up, it also gives them more scope to explore the casino's games and services. And once you have sampled the quality of gameplay, graphics and excellent service on offer, the more likely you are to return in the future.
One online casino that is only too happy to hand out generous welcome bonuses is 32Red.com. As a new customer, for every $20 you deposit, you'll be given $32 free!
Weekly/monthly bonus
As well as the initial welcome bonus, many casinos offer their players recurring weekly or monthly first-deposit bonuses. As with the welcome bonus, the player receives a further percentage bonus on the first deposit they make during the specified time frame.
32 Red is an online casino that offers frequent special bonuses to its customers.
Second/third deposit bonus
The name says it all. The second and third deposit bonus are bonuses on the second and third deposit made at an online casino. Often the percentage of these bonuses increases with each deposit made.
For instance, you may find the deposit bonus on your first deposit is 25%. The second and third are usually higher still. In fact, they're frequently 100%! Sometimes even fourth deposit bonuses are given away!
Commission bonus
Most casinos operate commission bonuses. Sometimes these are called refer-a-friend bonuses. If a friend decides to join a casino on your recommendation, you'll receive an interesting bonus payment when they make their first deposit.
The amount you'll receive varies from casino to casino, but some offer as much as $75 per referral. To see if a particular casino offers a commission bonus, check it's promotions section or contact its customer support.
High Roller bonus
High Rollers are gamblers who play for big prizes. They're not afraid of placing big wagers! The high roller is a serious gambler, and some gamble for a living. In order to entice such players, many online casinos offer high roller bonuses.
High roller bonuses are given out to those who make big deposits. For instance, if you deposit $3,000 in one go, you may receive a high roller bonus of up to $1,000.
Alternative payment method bonus
Some casinos offer bonuses for using certain deposit methods. Whenever a player makes a deposit, the company handling the transaction (e.g. VISA, Mastercard, etc) charges the casino a fee. This fee can vary from company to company. Encouraging players to use cheaper methods by giving them bonuses lowers the operating costs of the casino, and rewards the player.
Complimentary points bonus
At most casinos will give you complementary points whenever you place a bet. After you've amassed enough points, you can trade them in for free gambles or other interesting prizes.
Casinos frequently run double points promotions. When such promotions are running, a casino will normally advertise it on its site and by email. After joining a certain casino you will always be informed concerning their latest promotions.
After reading our casino bonus guide you know all you need to know about the casino bonuses available in the online gambling industry.
Next chapter: Online casino beginners tips