Red Bet Casino interview
This is a summary of the interview.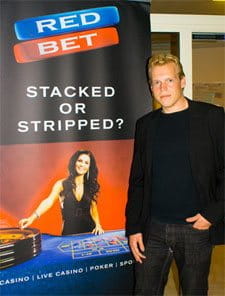 First of all I would like to thank Alexis Wicén of Red Bet Casino for welcoming Online Gambling Pal to come and interview him today for Onlinegamblingpal.com. So without further ado, I'll get right to the questions...
How long has Red Bet casino been in operation?
Red Bet Casino was founded in 2002 and went live in 2004 as a pure
sports betting
exchange. We have been live with the casino since 2007.
What advantages does Red Bet Casino offer compared to the competition?
We're based and regulated in Malta by the Lotteries and Gaming Association, so you can trust us and be assured that we're legitimate. We process withdrawals quickly. We try and give a personalized service to our customers.
What is the largest prize money ever won by a player on Red Bet Casino and which game was it?
Our largest single win was a €36000 win on Icy Wonders. It isn't a lot but we'll soon be on a bigger jackpot where our players will have a chance to win over €1 million.
Can you tell us a story or anecdote about one of your big prizewinners?
Just last month we had a player come in and started playing. Usually depositing €50 a month, this month was no different, but it turned out to be a ride hard to soon forget. After a while the €50 had turned into €1000, but the customer didn't stop there. Raising the stakes, her €1000 soon turned into €2000, and then €5000, topping out at a staggering €16000 from just that €50 deposit.
What are the advantages for your players of you being a registered operator in Malta and why did you choose to locate your operation here?
Our Casino Managers are happy here in Malta because it is sunny here and the beer is cheap! This all means that our casino managers are happy and therefore we offer the best service possible.
Other than that, I guess that being licensed and regulated in EU brings low taxes and provides our players with certain securities, that they might not get from a casino regulated in Kahnawake, Costa Rica or the Netherlands Antilles for example.  
Our readers would be interested to know which the most popular games you offer are.
As we are provided by Net Entertainment, Gonzo's Quest is one of the most played slots. All the classic
slots
like Devil's Delight, Excalibur and Blood Suckers are producing well. Classic games like Blackjack and Roulette are always on top of the list of course.
Do you have any plans in the pipeline to offer new casino games? If so which games and what prizes can be won?

Just last week we released Jack Hammer, a video slot similar to Gonzo's Quest in the way that wins will stick and trigger re-spins until you win!
In December, we will also release a new scratch ticket called Bubbles, where you click on bubbles in the hope of winning. I have recently tried it and it is quite nice. I think Jack Hammer will be quite popular for a while.

What tips can you offer a player when gambling online?
The main thing I would say is when you deposit you need to make sure whether or not you will get a bonus. If so whether you want the bonus or whether you can turn it off in order to be able to withdraw if you get a win.
I would advice new players to try a bunch of games with fun money, before depositing and playing for real. Personally I love a game with good bonus rounds. I mainly focus on Dead or Alive, Devils Delight or Champion of the Track, those are my favorite games.
How can you reassure and what would you recommend to players regarding data security and fair gaming?
I think that anyone regulated in the EU will have strict regulation guidelines on how to handle all the data security, backups and everything. They should also look at what provider they have for the games. We use Net Entertainment who have their games tested and approved by eCOGRA, who tests the games and the payouts in order to ensure that the games are safe and fair. So make sure you know what you are getting.
What does Red Bet Casino do to ensure Responsible Gaming and gambling within players means?
We offer our players quite a few options and they can set how much they deposit in a day, week or month for example. They can also set how much they want to wager or how much you want to lose in a session. When you don't want to lose more than €50 when you are logged in, after which you will be automatically kicked out. This is quite easily set by the players themselves.
Can I ask whether you take a proactive role in identifying people who may have difficulties controlling their playing?
We try to find some players sometimes, but it is quite hard to see if they are having a problem or if they just want to play.
What is the biggest current jackpot you offer players?
Currently our biggest jackpot is on Arabian Nights at €80.000, but we'll soon be offering our customers a chance to win over €1 million on a bigger jackpot.
What is the payout percentage of your casino?
Yes in fact that is another thing you should look at when choosing a casino. Most casinos cannot set their own payouts; it is set instead by the provider. In our case it is set by the provider and is between 97% and 98%, which is quite good.
Which current promotions are you running?

At the moment we give all new players a 100% deposit bonus plus an additional 10 free spins on two of our most popular games, Blood Suckers and Piggy Riches.
But what we are most proud about at the moment is the fact that we are offering our daily free spins, where we offer customers who played the day before five free spins, which is a great boost aimed at our most loyal customers.
Can you tell us about your future plans for Red Bet Casino?
We'll be launching Bubbles in December. We are also going to have some exciting games in January, February and March. I think we are going to have some great promotions and games really early next year. Promotions and games that will revolutionize everything.
Are there any further things we have not covered that you would like our readers to know?
Well we have our instant games and our Live Casino. Personally when it comes to video slots I love playing the instant games. When it comes to Roulette, I want to be able to really enjoy the experience of betting. I like the Live Casino when it comes to
Roulette
or the table games. You get to feel the excitement a little bit more on each bet. The Live Casino is working fine and we are going to release a new version of the program. This will offer customers a better experience, better cameras, better lobby, everything.
On behalf of the whole team at Onlinegamblingpal.com, I would like to thank you again Alexis for taking the time to answer our questions and for the unique insight you have given us into Red Bet Casino. Good luck for the future!
Thank you!