Sands Casino Macao
Few casinos epitomize Macao's new generation of casino better than the Sands Casino Macao. Following the state's decision to open Macau's casino market up to competition in 2002, the Sands was designed to set new standards for casinos in Asia when it opened its doors in May 2004.
Exceeding expectations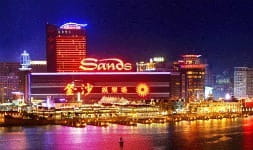 The high quality of Macao's existing casinos presented the Sands Corporation with a clear challenge, and its response was nothing if not comprehensive. Getting the right team to manage the casino through to launch was key, and the company hired many people with years of casino experience across Asia. They were therefore familiar with Asian practices and games, making them idea to train up the staff accordingly.
The casino itself was also tailored to the tastes of its target audience. The open plan interior was styled to reflect Asian culture, and when it launched in May 2004, it proved to be an immediate hit. Indeed, so popular was it that by May of the following year, all the construction loans had been repaid.
The following year the casino was expanded further to keep up with demand, and such has been its rate of development that many of its original staff have been promoted several times since its grand opening.
Setting the standard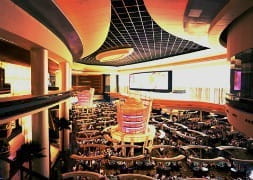 The Sands Macao has continued to go from strength to strength, and is now one of Macao's most popular casinos. Following its expansion in 2006, its casino floor is now some 229,000 sq ft (21,300 m
2
) in size. This expansive area is home to more than 1,200 slot machines and 740 table games – enough for the Sands Corporation to claim it is the largest casino in the world in its promotional material for a while.
The range of games on offer consists of an intriguing blend of Eastern and Western games, including:
One interesting perk available is the casino's loyalty scheme. This three-tiered system is designed to keep players coming back for more by offering them an array of incentives:
Generous repayment offers, depending on the casino games you play
10% off at the casino's restaurants
Invitations to regular events.
Quality over quantity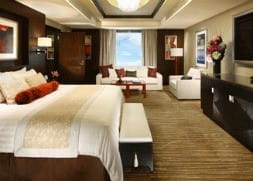 In stark contrast, the Sands Macao's hotel complex is nowhere near as large in scale. Indeed, despite the opening of a new tower in 2007, it still only boasts 289 rooms – a far cry from some its rival casinos.
However, what it lacks in quality, it more than makes up for in quantity. Two types of room are available: the deluxe suite, and the executive suite. The latter is essentially a small apartment, some 60m² in size, and offering a separate living room/diner, and a separate bathroom, as well as luxurious furnishings and fittings.
Nevertheless, the deluxe suites are themselves rather luxurious, also featuring multiple rooms. And regardless of which type of room you stay in, all come equipped with cable TV, high speed WiFi internet, mini-bars, in-room safes and other facilities.
A wealth of culinary delights
In keeping with the best traditions of Las Vegas' famous casinos, the Sands Macao offers hungry gamblers a wealth of excellent restaurants and bars in which they can refuel.
The selection of restaurants caters for all palettes and budgets, and covers everything from fine dining to fast food:
The COPA Steakhouse, which offers fantastic cuts of the best beef from around the world.
The Golden Court, which specialises in traditional Cantonese-style Chinese food.
The EDO Restaurant, which offers expertly-prepared Japanese food.
The 888 Gourmet Place, with its famous buffets.
McDonald's, KFC and Moonlight Noodle House concessions.
The Sands Macao also features two bars, for those seeking liquid refreshment. There's the Winner's Circle bar, where you can unwind with a cool, refreshing drink in elegant surroundings. And for those who prefer a show, the Xanadu lounge offers a wide arrange of performances, including dancing girls.
Entertainment at Casino Sands Macao
The Sands Macao also features an enviable entertainment line up. Its theatre and lounge play host to a variety of acts from across Asia and around the globe all year round. This includes everything from light entertainment, to ballroom dancing and theatrical performances. 
The Sands' range of shops offer a wide array of luxury items, from designer jewellery and rare wines, to the latest gadgets and mobile telephones. 
Additionally, the hotel features an open air rooftop pool, and a spa which comes complete with fitness centre, sauna, Jacuzzi and salon. 
Sands CasinoMacaofacts and figures
Finally, here's are some facts and figures relating to the Sands Casino Macau:
Address: Sands Macao Hotel, Largo de Monte Carlo, No.203, Macao
Total gaming space: 21,300 m2 (229,000 sq ft)
Opened: May 18, 2004
Total number of hotel rooms: 289
Parent company: Las Vegas Sands Corporation
Total number of slots: 1,200+
Smoking: Permitted in designated areas
For further information, including how to book a stay at the hotel, please visit the Sands Casino Macao official website.