Casino Venetian Macao
If you too believe the old saying that biggest is best, then the Casino Venetian Macao is just the place for you. As with the Venetian in Las Vegas on which it's modelled, this 40-storey behemoth is certainly big. Indeed, it's the largest single-structure hotel building in Asia, and the sixth biggest building in the world by area.
Its architecture is inspired by famous Italian explorer Marco Polo's travels in China, and is designed to offer its guests fantastic gambling in truly luxurious, stylish surroundings.
A modern behemoth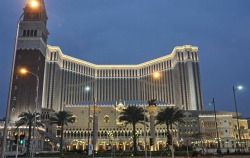 As with its Las Vegas namesake, the Venetian Casino
Macao
is owned by the Las Vegas Sands Corporation (which also owns the
Sands Casino Macao
), and is also located on the Strip – in this case, Macau's all-new Cotai Strip district.
The Venetian is one of Macao's newest casino-hotels, having first opened on August 28, 2007, and the vision behind it is nothing if not bold. Its 40 storeys play host to some 3,000 suits, 111,000 m² of conference rooms, 149,000 m² of shops, and most importantly, 51,000 m² of casino floor space. In all it is not only the biggest casino in the world, but also Macao's biggest resort.
The hotel is designed to be the centrepiece of a $2.4 billion development project to build seven hotels on the Cotai Strip.
Entering the gambling zones
The Venetian Macao's centrepiece is, of course, is massive casino complex. Alongside its general Italian-Chinese feel, the casino itself is divided up into four distinct, themed areas: Golden Fish, Imperial House, Red Dragon and Phoenix.
Whichever section you ultimately choose to gamble in though, you're unlikely to be short of ways to do so. Within the casino you'll find more than 6,000 slot machines and 800 gambling tables, offering a variety of games, including:  
Customers also have the chance to join the Venetian Macao's Paiza Club, a VIP club designed to cater for high-rollers and other VIPs. The club is entered via its own private lobby, and also offers butlers and private lifts.
The gambling area of the Paiza Club is divided into different private game rooms, each being named after a major Asian city such as Yunnan, Guangzhou, Hong Kong, Singapore and Kuala Lumpur. Club members have exclusive access to club restaurants and the club lounge, which is open 24 hours.
A great place to stay
As with the casino itself, the hotel is certainly grand in scope and scale, offering comfort and style to suit a range of budgets. In all, five classes of standard suite are available – Royale, Bella, Rialto, Verona and Famiglia.
All rooms come with luxurious fixtures, fittings and furnishings, as well as mini-bars, high speed wireless internet and cable TV. However, each class of room has been thoughtfully designed to cater for a variety of customers. Those travelling alone or with a partner may, for instance, prefer a room with an executive style desk; whereas for those with families, rooms featuring DVD players and even games consoles are available.
Two further classes of suite are available exclusively to Paiza Club members. These luxury apartments can be as much as four times the size of standard suites, and also come with added perks such as built-in Jacuzzis, spas, espresso makers and even a limousine that collects you from the airport. 
Dining in style
Regardless of whether you're a Paiza member or not, you'll find no shortage of great places to eat and drink at the Venetian Macao. Some 18 restaurants are available, offering a stunning spread of cuisines that ranges from traditional Chinese dim sum through to the finest cuts of steak cooked just the way you like them.
For those looking to stay in the hotel, bed & breakfast packages are also available.
The Premiership of entertainment
If you're looking to fill the time between gambling sessions, the Venetian Macao offers an impressive array of other means to entertain yourself. The CotaiArena is one of Asia's most popular venues, and has played host to shows from such internationally acclaimed artists as Lady Gaga, Beyonce and Sarah Brightman.
Another popular venue is the Bellini Lounge. Not only does this feature live performances of its own, it's also home to the Macao Playboy Club with its famous bunnies.
There is more family-orientated entertainment available as well. Football fans will almost certainly wish to check out the Manchester United Experience. For fans of the Red Devils, it's the next best thing to a trip to Old Trafford itself!
Guided tours of Macao are also available, and the hotel itself also has a range of other facilities. These include a gym, lavish pool, a state-of-the-art gym, kids club, and even a mini-golf course. And of course, there's always the Venetian's signature gondola trips. A wide range of luxury shops and boutiques is also available.
Casino VenetianMacaofacts and figures
Finally, here's are some facts and figures relating to the Venetian Macao:
Address: Estrada da Baía de N. Senhora da Esperança, s/n, Taipa, Macao
Total gaming space: 51,000 m² (550,000 sq ft)
Opened: August 28, 2007
Total number of hotel rooms: 3,000 suites
Parent company: Las Vegas Sands Corporation
Total number of slots: 6,000+
Smoking: Permitted in designated areas
For further information, including how to book your stay at the hotel, please visit the official Casino Venetian Macao website.