Circus Circus Las Vegas
With such an emphasis on big entertainment and full-on showmanship, its not uncommon for Las Vegas' famous casinos to be compared to circuses. But none of them take this to the literal extremes that the Circus Circus Casino does.
Indeed, even by Vegas' standards, Circus Circus has a reputation for being a little bit different, more famous for its outrageous styling and strong emphasis on entertainment than its gambling. But nevertheless, there is a great casino lurking inside.
A history of being different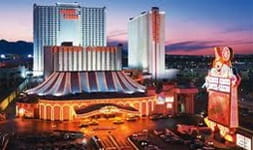 Unsurprisingly, this history of wackiness dates back to the Circus Circus Casino's very inception. When casino magnate Jay Sarno commissioned architects Rissman & Rissman Associates to design his new casino back in the Sixties, they did so with a giant big top at its heart.
The scale of this thing was huge, dominating the immediate area when the casino launched in 1968. Indeed, so big is it that it remains the world's single largest permanent big top, more than 40 years on from its grand opening. Nor is it just for show – the casino has a long and proud tradition of hosting some of the world's greatest circus acts.
In 1976, its other famous landmark, the Lucky the Clown marquee, was added.
Nevertheless, the casino is no stranger to the sort of problems many of Vegas' casinos have faced. One particular problem early on was its complete lack of accommodation, which deterred high rollers. As a result, the casino has seen regular expansion (including the building of dedicated hotel facilities) over the decades, and has changed hands several times.
It is currently owned by MGM Resorts, which also owns the Bellagio and the Venetian.
Still a casino at heart
Despite its reputation, the Circus Circus Casino is still a casino at heart. Indeed, in terms of raw floor space, it's actually one of Vegas' bigger ones. The casino floor is a substantial 126,000 sq ft (11,700 m²) – almost unheard of in casinos of its age.
Suffice to say, its game line-up is no less impressive. It offers over 40 table games, including various versions of craps and blackjack, along with more than 2000 slots. Poker is also available.
Nor does one have to be an expert gambler to enjoy the casino, as expert lessons in all the top games are provided free of charge, seven days a week.
Sports and race betting are also available.
Massive entertainment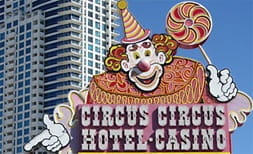 Given its circus-like styling, it should come as scant surprise that Circus Circus takes entertainment very seriously.
As mentioned earlier, Circus Circus is renowned for its circus acts, which include many of the finest circus performers from around the world. These include acrobats, clowns, jugglers, trapeze artists and many more. And best of all, admission is free.
That's not to say there aren't other ways to entertain yourself. The Adventuredrome theme park is one of them, featuring a wealth of thrilling rides, while those who wish to sample all the fun of a traditional fairground can do so at the Midway Festival.
Alternatively, you can rock out at one of the casino's live DJ pool parties, relax in its spa, play a round of golf, take in a helicopter tour of the Grand Canyon , or enjoy a spot of retail therapy at the hotel's various shops.
And for those in need of a spot of refreshment, Circus Circus offers nine top quality restaurants, cafes and bars.
Luxury rooms
Although the casino initially launched without any accommodation facilities for its guests, this is something that has thankfully changed. And predictably enough, Circus Circus hasn't been afraid to be a little bold with this.
The casino currently has more than 3,700 hotel rooms, ranging from simple double rooms to luxury suites. However, uniquely among other casinos in Vegas, it also features a 399-space trailer park for those who prefer to bring their own accommodation.
That being said, those who choose to go with this option will still find themselves in comparatively luxurious surroundings, with a pool, shower and sauna being available.
Circus Circus Casino facts and figures
Finally, here's a brief overview of the Circus Circus Casino's important statistics:
Address: 2880 Boulevard South, Las Vegas
Opened: October 18, 1968
Total gaming space: 11,700 m² (126,000 sq ft)
Total number of rooms: 3,773
Smoking: yes
Number of slots: 2,000+
Parent company: MGM Resorts
For more information, including how to book your room, please visit the official website of the Circus Circus Casino Las Vegas