Hippodrome Casino
Right in the middle of London's famous West End is a building which has had a great influence on London's colorful past – the much-celebrated Hippodrome.
Built in 1900, it has housed everything imaginable form of entertainment since, from being a circus building in the Twenties, to a huge discotheque in the Eighties and Nineties. And now, thanks to the booming popularity of gambling, the Hippodrome is set to forge a new career as the United Kingdom's biggest and best casino.
Reviving a legend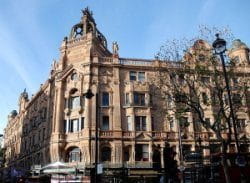 Even if you've never been to London, chances are you'll have heard of Leicester Square – he home of many of the city's greatest theatres, restaurants and cinemas, and its second biggest tourist attraction.
It is on the corner of Leicester Square and Charing Cross Road that you will find the famous Hippodrome Theatre building. Every day, almost a quarter of a million people walk past the building, and the nearest underground station – Leicester Square Station – is being used by over 40 million people a year.
At present, not many of these passersby are aware of what's going on in the old building. However, when the new casino opens its doors soon, the Hippodrome will be transformed from a rather shabby looking building, to one of Leicester Square's brightest – highlighting (in an almost literal way) the fact it will be the focal point for anyone wanting a fun-filled night out in London.
Stars in their eyes
The Hippodrome was built by the highly respected Victorian architect, Frank Matcham, for £250,000 in 1900. When it first opened, it was London's premier circus venue, housing a 455,000 liter pool for swimming elephants and diving dwarfs.
If that didn't take one's fancy, one could always visit the polar bear cages, also situated within this massive building. When the popularity of the circus started to wane in the years that followed, the Hippodrome was turned into a revue, where all the greatest stars of the era performed.
The first performance of the famous Swan Lake ballet ever to be staged in England was staged in the Hippodrome. And in October 1947 a 12-year-old Julie Andrews – best known from the musical The Sound of Music - made her debut there.
From the Talk of the Town toLondon's hottest club
By the end of the Fifties, the Hippodrome again underwent a major change. In 1957, it was taken over by catering and hotel magnate Charles Forte, who changed both its interior and its name to suit its new focus as a cabaret club.
A false roof was added to the building's interior, and the Hippodrome itself was renamed 'Talk of the Town'. Despite these far-reaching changes, this famous venue lost none of its appeal for the world's top performers. And many of the most famous names in showbiz of the time lined up to perform there.
Such stars included Frank Sinatra, Judy Garland, Sammy Davis Junior and Shirley Bassey. The building continued to serve as a cabaret club until the early Eighties, when it was taken over by nightclub tycoon Peter Stringfellow – widely regarded as Britain's equivalent to Playboy publisher Hugh Hefner – in 1983.
Stringfellow's vision was to turn this classic venue into a sprawling discotheque spanning three neon-lit floors, to cash in on the disco craze that was sweeping both Britain and the Western world.
Tastes in music changed over the coming two decades, and a succession of new owners came and went. But for 22 years, the disco remained in place. This came to an end in 2005 however, when – tired of the fights and general rowdiness that occurred outside the building most nights – authorities revoked its alcohol license.
Another new era beckons
Lacking the right to serve alcohol, there was little point in keeping the disco open. What followed was a period of hibernation, as people struggled to find an appropriate use for this historic building.
This persisted up until recently, when a couple of canny investors – fuelled on by changes to the UK's casino laws – came up with the idea to convert it into a casino. Given the grandiosity of the venue, and its rich history, this understandably won favor, and was given the go ahead by Westminster Council in 2006.
Redevelopment work started in 2009, with the new casino due to open in summer 2012, in time for the Summer Olympic Games, which are due to be held in London that year. The casino is currently undergoing a major recruitment drive ahead of the launch.
A famous casino in the making
The new project bears all the hallmarks of a
famous casino
in the making. According to the chairman of the Hippodrome Casino, Simon Thomas, the casino will be open 24 hours a day, and will span three floors.
These three floors will house 30 game tables, 150 slot machines, a cards room, a high stakes room, a restaurant and a number of bars. Furthermore the gambling rooms will be split into categories for different types of players. This way, amateurs will be able to enjoy gambling without getting wiped out by the professionals. Likewise, those who are more serious about their gambling can enjoy the thrill of competing against truly worthy opponents.
On the casino floor, you'll be able to find all the familiar casino games:
For those who wish to embark on a truly special evening out with their friends and loved ones, a dedicated poker room and a sports lounge will be located in the basement which can be booked for private parties and events.
Non-gambling entertainment
Nor is it just high quality gambling that awaits inside the newly restored Hippodrome. Within its famous walls you'll find a top quality restaurant overlooking the 60ft tall atrium. The restaurant promises to "blend the quality of a USA steak house with the informality of a brasserie", and should cater for all tastes.
Further to the restaurant there will be five bars, and on the top floor an impressive smoking area. In tribute to its former guise as a cabaret club, there'll also be a 200-seat theatre where live cabaret performances will take place. This can be booked for events such as weddings.
Staying in London
By using a listed building located in one of London's most prestigious districts, the Hippodrome Casino doesn't offer any hotel rooms itself. However, this central location also ensures that the Hippodrome is never too far away from many of London's top hotels.
Even if you decide to stay in a hotel relatively far away from the casino itself, you need not worry. The nearby Leicester Square Underground Station is serviced by the Northern and Piccadilly underground lines, and London 'tube' trains usually run every couple of minutes. And with busses and Taxis available as well, getting to the venue is both quick and easy from anywhere in central London.
Hippodrome Casino facts and figures
Finally, here are some facts and figures relating to the Hippodrome Casino:
Address: Hippodrome Corner,Cranbourn Street, City ofWestminster
Total gaming space: Three floors
Opening: summer 2012
Total number of hotel rooms: N/A
Parent company: Hippodrome Casinos Ltd.
Total number of slots: 150+ (approx.)
Smoking: Designated smoking area only
For further information on the casino and its impending launch, please visit the official Hippodrome Casino website.