Atlantic City Casinos
Make a trip to Atlantic City and you'll soon discover why it is called a tourists' paradise. It encompasses many of the elements that visitors seek in a relaxing holiday and an escape from their everyday routines: beautiful landscapes, exotic and varied cuisine, and a wide variety of shops for some retail therapy. What more could a tourist ask for?
Well, Atlantic City offers a whole lot more besides this – especially if you're a gambler! The icing on the cake is the abundance of casinos throughout the city. Among these are some of the most famous casinos in the world:
A history of gambling in Atlantic City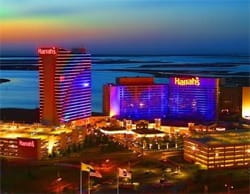 In the Fifties, the democratization of aviation opened up destinations such as Florida and the Caribbean to consumers, and these quickly overtook Atlantic City as a holiday destination. In the Sixties, the city experienced the economic and social problems common to many urban centres of the time. With an economy entirely reliant on tourism, a solution had to be found.
In a bid to overcome these issues, the city took a leaf out of Las Vegas' book by turning to casino gambling. In 1976, New Jersey voters approved a referendum to legalize gambling in Atlantic City (but not in the rest of the State). Atlantic City's first casino, Resorts International, opened in 1978.

While critics questions the wisdom of this as an urban development tool, many were convinced that casinos would provide the resources necessary to rejuvenate the city's economy.
This faith was repaid by the rapid growth of the gambling industry, which exceeded all expectations. The impact this had on both Atlantic city and New Jersey as a whole over the coming decades was staggering:
By 1988, a dozen casinos had opened, and annual visitor numbers were up 700,000 to 33 million.
In 2000, the tax base of the town had increase to more than $6.7 billion. In 1976, it was 316 million.
Nowadays, the positive effect gambling has had can be seen in revitalized areas, new housing projects and improved public services. A second way of development is also underway.
Atlantic City - casinos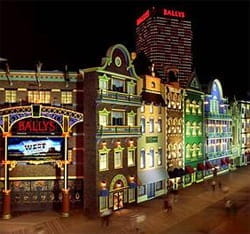 At present, Atlantic City's largest casinos include the Atlantic Club Casino Hotel, the Bally's Casino, and the Caesars Atlantic City (which is owned by the same company which owns the world-renowned
Caesars Palace
in Vegas).
Another of the city's famous casinos was the Sands Atlantic City. This casino also derives its name from the famous Sands Hotel in Vegas. And much like its namesake on the Strip, it too found itself unable to compete with newer casinos, and was eventually forced to close.
Different casinos are suitable for different budgets. It is therefore important to base your choice of casino on your budget. Casino players are usually distinguished between those who play for fun and entertainment, and those who play for big bucks. In each case, it is important to set a budget and abide by it. After all, it's impossible to know when your luck will change.
It might not quite have the profile of Vegas, Monte-Carlo or Macao, but Atlantic City remains a fantastic place to go gambling. If you fancy taking a trip there, we'd recommend you consult the casino reviews in this section. You will also find links to these casinos' websites, where you can book your stay.
Are you interested in reading about another famous casino city? Check out our reviews of Macao's Casinos.