Online gambling law Germany
Like many EU states, European and domestic competition laws are now slowly forcing Germany to start licensing online gambling. However, a complex legal situation involving both state and interstate laws is complicating matters.
| | |
| --- | --- |
| Federal Republic of Germany | |
| Population | 81,799,600 |
| Language | German |
| Online gambling regulation | Interior Ministry of Hesse |
| Currency | Euro |
| Legislative authority | Bundestag (federal lower house of parliament) |
| Percentage of population online | 83.00% |
Latest articles
A complex legal situation
At present, online gambling in Germany is still largely unregulated, although it is now embarking on the first stages of a licensing program. However, the situation remains complex because of two laws: – the interstate Glücksspielstaatsvertrag, and the Glückspeilgesetz.
The Glücksspielstaatsvertrag is an interstate arrangement that has been in effect since 2008, but has only recently been amended. Under the provisions of the amended law, online lotteries can now be operated, and the bidding process for 20 online sports betting licenses is currently underway.
Up until recently, the only state not to sign this was Schleswig-Holstein, whose own Glückspeilgesetz came into effect earlier this year. This offered operators the chance to bid for five-year licenses for sports betting, online casino games and poker.
Seven licenses have been awarded to date. But following a change of state government, Schleswig-Holstein became a belated signatory of the Glücksspielstaatsvertrag. This has pitched the viability of the Glückspeilgesetz into uncertainty.
The Glücksspielstaatsvertrag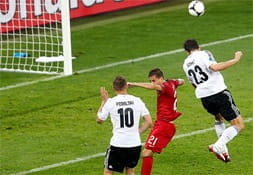 Germany's most important piece of current gambling legislation is the Glücksspielstaatsvertrag. It came into effect on January 1, 2008 after being signed by 15 of Germany's 16 federal states.
The original form of the Glücksspielstaatsvertrag set out to impose severe restrictions on gambling operators in order to protect consumers from gambling addiction, and to ward off fraud and similar crimes. There were no provisions for online gambling regulation.
This changed to an extent when the Glücksspielstaatsvertrag was amended on December 15, 2011. Changes introduced included:
Provisions to allow the offering of online lotteries.
Provisions to issue a maximum of 20 online sports betting licenses, with a 5% tax on annual turnover.
The removal of internet blocks on online casinos (although these remain unregulated).
Even then, some of these very modest concessions came with heavy costs. Those operators awarded sports betting licenses would have to cease offering online poker and casino products to German consumers. As a result, the general consensus among experts is that it still falls short of German and European competition laws.
On July 24, 2012, Schleswig-Holstein (the only state not to have signed the agreement) declared its intention to sign. However, this process may take up to six months.
Schleswig-Holstein – going it alone
Unlike its fellow states, Schleswig-Holstein has embraced online gambling regulation. The state parliament passed the Glückspeilgesetz on September 14, 2011 (coming into effect on January 1, 2012).
Under the law:
Online operators can bid for licenses for various forms of gambling, including sports betting, poker, and online casino gambling.
Each license would cover a five-year period.
Each licensed operator would pay a 20% gross revenue tax.
There would be no maximum number of licenses awarded. 
By July 2012, seven licenses has already been awarded to companies including Bwin, Betfair and Bet365. And a further 28 applications for sports betting licenses, and 21 applications for online casino licenses had also been received.
Estimates suggest that online regulation may be worth as much as €40-60 million a year to the State.
However, the future of online gambling regulation in Schleswig-Holstein was cast into doubt in May 2012, following the election of a new state government. On July 24, 2012, the new cabinet announced its intention to sign the Glücksspielstaatsvertrag. The precise future of the Glückspeilgesetz and its licenses remains unclear at this time.
Clashes with Europe and Germany's competition watchdogs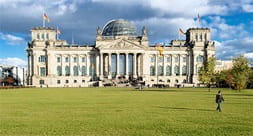 Like many European Union nations such as Greece, Germany's gambling laws have come under fire from domestic and European trade-protection bodies claiming they are illegal under European competition laws.
In September 2010, the European Court of Justice declares Germany's restrictions on gambling to be illegal. Specifically, the ruling found:
German rules on sports betting constitute a restriction on the freedom to provide services and the freedom of establishment.
That the aggressive advertising employed by state monopolies for gambling products were inconsistent with the aim of protecting consumers. 
Further to this, both the European Commission and the German Monopolies Commission have stated that Germany's gambling laws are in violation of competition laws.
Slow steps in the right direction
Despite pressure from the European Commission and its own monopolies watchdog, Germany has shown little desire to regulate online gambling. And with the European Commission keen to ensure all member states bring their online gambling markets in line with competition laws, further legal showdowns seem inevitable.
Nevertheless, there are some elements in Germany who think differently. Up until recently, Schleswig-Holstein was a good example. And likewise, there are those who recognize the difficulty of policing an unregulated gambling market. As in many countries, offshore operators are still able to offer their services to German consumers, and there are no laws preventing German consumers from making use of these services.
A good example is world poker champion Pius Heinz, whose success as a poker player has made him a celebrity in Germany. Heinz openly admits he made use of online poker to master the game, even though it's unregulated in Germany.
Timeline
2012: Schleswig-Holstein's new state government decides it wishes to sign the Glücksspielstaatsvertrag.
2012: Application process for Glücksspielstaatsvertrag sports betting licenses opens.
2012: German Monopolies Commission criticizes current gambling laws for being anti-competitive.
2012: Glückspeilgesetz takes effect.
2011: Glücksspielstaatsvertrag amended, provisions include sports betting licenses.
2011: Schleswig-Holstein parliament passes the Glückspeilgesetz.
2010: European Court of Justice rules that German gambling laws contravene competition laws.
2008: original Glücksspielstaatsvertrag takes effect.