Enjoying the casino experience
If you've followed the previous steps outlined in this section, you're now on-track to fully enjoy the online casino experience.
You've made the most difficult choices, such as identifying which online casinos you want to play at. You've installed the software on your PC. You've tried the games, opened your account, and now you've deposited your money and got your welcome bonus. You're now ready to play properly!
Have fun!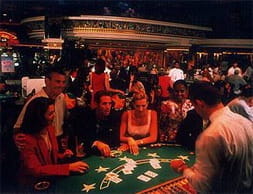 By claiming your bonus, you are therefore already a winner of sorts, since you've already increased your bankroll without even playing. And by playing intelligently, you can keep this trend going – something we will explore in this section.
Play it smart
To help you on your way, here are a few more helpful tips and tricks that you should bear in mind while in the heat of the action. These will aid you in being decisive in critical situations.
Here are the five commandments of the online casino player:
Never forget that you are playing with real money.
Limit yourself to playing casino games you are familiar with.
Make use of the fun mode for experimenting with new games.
Keep an eye on your bankroll when playing certain high-speed games.
Set time and bankroll limits when playing. Never play with money you can't afford to lose!
With these last few tips in mind, all the team at BestOnlineCasino.com wishes you good luck and lots of enjoyment on your online casino adventure! Play and enjoy!

Next chapter: how to withdraw your winnings