Online gambling law USA
Despite its immense popularity, online gambling's legality is a hotly debated subject in the USA. Thanks to a complex array of state and federal laws, the types of gambling that are legal, and the conditions under which they're legal, remains open to interpretation.
| | |
| --- | --- |
| United States of America | |
| Population | 311,591,917 |
| Language | English |
| Online gambling regulation | State gaming commissions |
| Currency | Dollar |
| Online gambling regulation | US Senate |
| Percentage of population online | 79.00% |
Unclear legal situation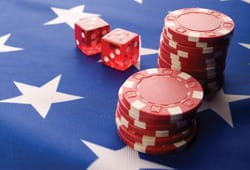 After much debate, the current consensus is that online gambling is largely legal in the USA, as long as it doesn't involve sports betting.
Legal attempts to limit its growth during the last decade have forced many established operators out of the US market. But 2011 estimates suggest that online gambling still generates revenues of more than $60 billion a year.
The situation is now improving in the USA for online gambling. But it has been a tricky journey so far.
The Wire Act
The origins of these legal obstacles can be traced back to the 1961 Federal Wire Act. Under the provisions of the act, placing sports bets using telecommunications networks that crossed state or national borders was deemed illegal.
Although aimed specifically at sports betting, for many years, the US Department of Justice argued that the Federal Wire Act covered all forms of gambling that use the national telecommunications network, including the internet.
This was dismissed in 2002 however, after the US Court of Appeal upheld a ruling by a lower court that the Wire Act does not prohibit US citizens from gambling on games of chance, just sports events.
The Unlawful Internet Gambling Enforcement Act
A more direct challenge to online gambling came in 2006, with the passing of the Unlawful Internet Gambling Enforcement Act (UIGEA), which was signed into law on October 13, 2006.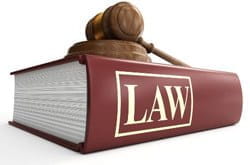 The most notable section in the bill was 5363, which prohibited operators from willingly accepting wagers from US citizens wishing to gamble online.
The act promptly attracted many critics. Much of this focused on the fact this controversial piece of legislation was passed after being attached to another bill at the last minute. However, the practicalities of enforcing a bill in a market dominated by foreign operators, and its failure to adequately define what unlawful online gambling is, were also criticized.
Nevertheless, many of the respectable, publicly traded operators who had dominated the US market until then promptly pulled out of the US market. This again attracted criticism from the act's detractors, who argued that now the market was free for less scrupulous operators, American consumers were now at even greater risk.
Nevertheless, some chose to fight it. Antigua and the European Union filed disputes with the World Trade Organization over the act in January 2007. In March that year, the WTO confirmed the provisions of the act were illegal.
Better times ahead?
After years of trying to fight online gambling outright, it seems that America is coming around to the notion that regulation may be the way forward.
In December 2011, the US Department of Justice ruled that it no longer considered using the telecommunications network for non-sports gambling to be illegal, as long as any betting activities are only conducted within the state itself. This has effectively given states the green light to start licensing their own online gambling affairs.
As a result, many have begun looking into this in earnest. Indeed, some states and districts, such as New Jersey and Columbia, actually changed their laws prior to the Department of Justice's rulings. That said, many states remain hostile to the idea of legalized online gambling.
Whether a wider federal law will come into effect for online gambling remains to be seen. Attempts to regulate online gambling at a national level have been attempted in the recent past (such as Barney Frank's Internet Gambling Regulation, Consumer Protection, and Enforcement Act), although these have yet to be successful.
Likewise, operators and their directors are still finding themselves in legal trouble because of the UIGEA. In 2011, three remote operators – PokerStars, Full Tilt Poker and Cereus – were charged with violating the terms of the UIGEA. The day has since become known as 'Black Friday' in online gambling circles.
Nevertheless, few would deny that the added tax revenue and jobs a fully regulated US online gambling market would bring would be a welcome boost for the US economy.
Timeline
2012: A bill is introduced in California that would legalize online poker, with other games possibly to follow.
2012: The Texas Attorney General confirms online gambling is still illegal in Texas, despite the Department of Justice's new stance.
2011: The District of Columbia legalizes online gambling within its borders.
2011: Department of Justice confirms it is no longer considers non-sports online gambling to be illegal on a state level.
2011: Joe Barton proposes the Online Poker Act, which would legalize online poker in the US.
2011: PokerStars, Full Tilt Poker and Cereus face federal charges of violating the UIGEA.
2010: New Jersey legalizes some forms of online gambling within its borders.
2007: Payment processor Neteller suspends its US gambling operation after two of its executives are arrested.
2007: EU and Antigua complain to WTO about UIGEA; WTO finds bill to be illegal.
2006: Many leading operators shut down their US operations.
2006: Unlawful Internet Gambling Enforcement Act (UIGEA) passed.
2004: Google, Yahoo stop running gambling ads on their websites.
2003: PayPal stops offering its payment processing service to gambling sites.
2003: New York Attorney General launches investigation into PayPal's processing of gambling transactions.
2002: US Court of Appeal rules that Wire Bill only applies to sports betting.
1999: Internet Gambling Prohibition Act defeated in US Senate.
1961: Federal Wire Bill outlaws the use of national telecommunications network to place sports bets.