StarGames Interview with Tysin Debattista
First of all I would like to thank Tysin Debattista, Affiliate Manager at StarGames for inviting Online Gambling Pal to interview him today for onlinegamblingpal.com. So without further ado, I'll get right to the questions.
How long has StarGames been in operation?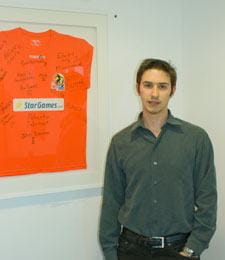 StarGames
has been online since early 2007. We started with skill games then around two years ago we introduced casino, poker and bingo. Then six months ago we also added premium slots to our portfolio.
What advantages does StarGames offer compared to the competition?
We have a few unique games such as premium slots. Our software provider was taken over by Novomatic. I don't know if you have heard of them. They are a multi-billion dollar company. They produce gaming machines from blackjack to slots. They are strongest on their slots. These can be found in many offline or land based casinos. These slots weren't available online until a few months ago. We happen to have them and there are actually very few casinos that have them. Some of them are exclusive to StarGames in fact. They have a big backing behind them since they were available offline. For the first time they are available online so people are familiar with these slots.
Can you tell us a story or anecdote about one of your big prize winners?
I can't tell you specifically about casino games because it has only been a few months. But on the skill games we actually had a woman who deposited €10 euros and played on billiards from home and after about a week or two she withdrew over €1000 playing only billiards. I don't know how often or how many games she played but still a good investment.
What are the advantages for your players of you being a registered operator in Malta and why did you choose to locate your operation there?
Well apart from the great weather of course, I would say the main benefit would be less charges for the players on transactions and having the
LGA
license which is something quite prestigious.
Our readers would be interested to know which the most popular games you offer are.
As I said the games are from Novomatic which itself is very popular. From these the most popular ones I would say are "Book of RA" which is by far the most popular slot we have and after that it would be "Sizzling Hot" and "Golden Sevens". These are all slot games and a lot of people play them.
Do you have any plans in the pipeline to offer new casino games? If so which games and what prizes can be won?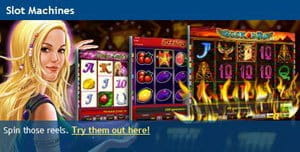 Like I said I am going to focus mainly on the slot games which I am mentioning a lot. We have new slots arriving each month. This year to date we have added five new games already and we have many more to be unveiled like 4 Kings Catch, Party Games Slotto, Big Catch, Win Wizard and some others. We are hoping to get the whole Novomatic portfolio online within the next three years and they have over two hundred slots.
What tips can you offer a player when gambling online?
I think never gamble too much and always count your deposit as a loss. Never go in expecting to win. Stay within your budget, be aware of how much you are spending and enjoy it!
How can you reassure and what would you recommend to players regarding data security and fair gaming?
Of course we are certified by the LGA which obviously is not something easy. There are strict rules and you need to pass many tests and checks. But apart from that we are also ECogra certified which means they test our gaming software and they check if everything is fair. We take security and fair gaming very seriously.
What does StarGames do to ensure Responsible Gaming and gambling within players' means?
Every player that signs-up to StarGames has a deposit limit per month between €7 000 and €10 000 per month. It is a limit to make sure that players don't deposit too much. There are specific cases in which this limit may be removed but we try to keep it there. Players can set their own limits, close their account. They can do what they want.
What is the biggest current jackpot you offer players?
At the moment we have jackpot of about €680 000 which is a progressive jackpot so it is always increasing and it is on "Golden Sevens".
Which current promotions are you running?

At the moment we have a first deposit bonus of 100% up to €500. We also a loyalty bonus program where every player starts off at bronze level and with each euro you bet you get points. The more points you get the more you advance to a higher level. There is Silver, Gold, Platinum and Diamond level.
Every month around the 20- 21st we give out a free no deposit bonus for players to play with which can be played on our casino. The more they play the higher the bonus they get up to €100. The amount of bonus depends on the level starting from Silver level. Each level has different amounts like €10, €20 or €30 depending on the level.
Furthermore every few weeks the Customer Relations Management team sends out periodical free bonuses to random players. Like a thank you, €10 or €20, sometimes even a 100% reload bonus. These bonuses are usually random as I said.
Can you tell us about your future plans for StarGames?
At
StarGames
we aim to become one of the
best online casinos
obviously like everyone else in the future providing quality games that players enjoy and want to play. We believe we have all the ingredients to become a major player in the industry in the near future. I think having such a unique product pushes us even more to achieve these goals. We are always open to comments and new ideas from players. We already have over 70 skill games, three types of
poker
and two types of bingo and until now 25
casino games
and we are hoping to have over 100 soon.
Are there any further things we have not covered that you would like our readers to know?
I don't think so. The questions you asked were good enough.
On behalf of the whole team at Onlinegamblingpal.com, I would like to thank you again Tysin for taking the time to answer our questions and for the unique insight you have given us into StarGames. Good luck for the future!
Thanks!