Casino Euro Interview with director Kevin Saliba
First of all I would like to thank Kevin Saliba of Casino Euro for welcoming
Online Gambling Pal
to come and interview him today for onlinegamblingpal.com. So without further ado, I'll get right to the questions...
How long has Casino Euro been in operation?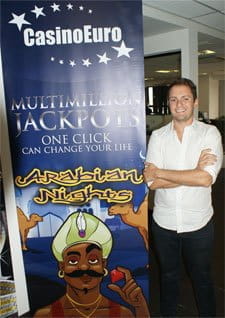 Casino Euro
has been around since 2002. That's pretty much part of the Betsson Group and has been operating in Malta since I believe 2005.
What advantages does Casino Euro offer compared to the competition?
Well it depends who you say the competition is. I would say one of the main advantages of Casino Euro is that firstly it is part of a gaming group Betsson which is listed on the stock exchange. But as a site, or as an experience, unlike most of our competitors, we are a single focused experience. We only do casino, so all our resources, all our investments, all our attempts to try and make the player experience more exciting more enjoyable are focused around simply the casino experience; and I think that we've done quite a lot in the last couple of months or so, simply focused on improving not only the gaming experience but the casino experience.
What is the largest prize money ever won by a player on Casino Euro and which game was it?
The largest prize was a video slot jackpot, to the tune of €3.9 million; and that was won by a Swedish lady from Gutenberg last November. That's pretty much all I can say about that because she has chosen to remain anonymous.
I'm sure she was happy anyway.
She was extremely happy. It was quite exciting, I was actually out the evening before with friends, I get alerts when the jackpot is won on my phone and I looked at the message and didn't think much of it, and then my colleague called me and told me, "Did you see the message?". I looked at it again and thought it was saying €39,000, but it wasn't it was €3.9 million! So, and that happened late in the evening at about 10.30pm I believe.
So the following morning I came over to work and there was a lot of excitement in the office. We obviously, she called up and said that she had won and we congratulated her. She contacted customer support actually. But then myself and the CEO of Betsson Malta called her up again to congratulate her again, and she was actually at the bank confirming she had the appropriate papers to pay her out and she was paid out in one lump sum.
Can you tell us a story or anecdote about one of your big prize winners?
I can tell you another one more recently actually, we had, and they actually came down to visit our offices last month, it's a Finnish couple. It was a really nice story because they actually play online at Casino Euro together, and they have an event which they organize together or also with their neighbours. They've created this whole name for it, where they have an evening to themselves at home so they relax in the sauna then play slots together at Casino Euro as a sort of relationship thing. It's really quite good.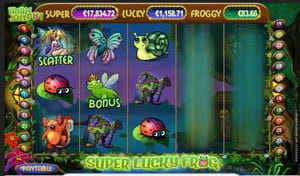 In this particular case the lady was playing Super Lucky Frog, and she won around €75,000. She was obviously completely excited and elated. We called her up to congratulate her and you could hear everyone going crazy and the neighbours heard her scream and came over to see what had happened. Then only a month later, her husband was also playing  and he won on the same game the same jackpot of around €78,000, and when he won he was actually working because he works on the ferry between Finland and Sweden. Over there they play by satellite and there is no actual phone and he was actually very concerned that we would try and call him and we wouldn't be able to get through to him.
But it was actually quite extraordinary that a couple should win on the same game, the same jackpot within maybe three or four weeks between them. They came down here and we invited them over and they spent a weekend in Malta. So it was quite interesting and quite exciting for them to be here.
What are the advantages for your players of you being a registered operator in Malta and why did you choose to locate your operation here?
Well one of the advantages about Malta is that the Maltese jurisdiction is probably one of the most respected and stringent with regards to gaming restrictions, whilst also Malta being a member of the European Union. So that is definitely an extremely important factor. The other advantage I would say is that Malta is quite welcoming to foreigners in the sense that English is spoken quite widely in this island.
However it is much larger than for example Gibraltar so it is more appealing for even foreigners  to move down to Malta while still enjoy the Mediterranean sun and great nightlife and good food. We are in the office now and you can see that most of the staff are actually quite young. So I would say those are the two main advantages yes.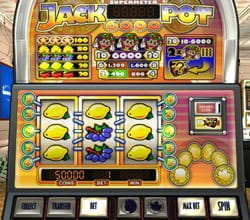 Our readers would be interested to know which are the most popular games among those that you offer?
I would say one of the old time favourite slot classics is definitely Jackpot 6000. That was released several years ago, yet it remains fairly popular amongst our players across all countries, it's not specifically for one particular market. It's always interesting to try and understand why a particular slot machine works, and why some don't, in the sense we get a lot of people to try them out, but then they just lose their popularity quite quickly, almost very faddish.
Have you any idea why this one works in particular?
I think it's a mix of the maths behind the slot machine and also the flexibility within the game because there are certain points within the game where the player can choose their own strategy on how to play, because this particular game has its own slot reels and then you can gamble what you win, or you can then move them up to a super metre mode. So each one is actually quite...
It's like a multi-level...
It's multi-level which allows players to choose either a low risk strategy or a high risk strategy. Then following the success of Jackpot 6000, we actually created an exclusive game called Super Nudge 6000 which is very much based on Jackpot 6000 where you have these multi-tiered levels. But the exclusive thing about Super Nudge 6000 is that it has a nudge feature where you can choose to bet on the reels, but if you have any nudges stored, the reels will actually move to form a win even after you bet resulting in more winnings. The classic slots are fairly popular.
Apart from that we released  a game which was hugely popular last March or May I can't remember called Gonzo's Quest, which is completely separate to Jackpot 6000 in that it's a video slot with high graphics and cascading reels. So with one bet you can win and then those reels explode and the reels continue to move until you create more winnings, and at each cascade there's a multiplier effect which continues to increase, and there is this little character as well, sort of 3D animated graphics which is quite cool as well. Gonzo indeed! The whole idea is the search for Eldorado and the City of Gold, but it has proved to be extremely popular.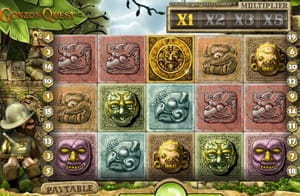 Very good! Do you have any plans in the pipeline to offer new casino games? If so which games and what prizes can be won?
Yes, I mean since March we have been releasing games every two weeks. At least this is the promise we have made to our customers that they will get new content every two weeks and so far we have upheld that promise. Interestingly you ask that question today because we have released a new game today called "Secret Code". It is also a video slot based on... it's almost a mix between, in term of a theme, between the Da Vinci Code and the Freemasons and sort of Notre Dame Paris in the sixties sort of thing.
So you are catching on to the Hollywood theme...
Some what... and again it's got scatters and free spins and multipliers. So that is the latest release which is actually happening today, so our players will be receiving more information about that later on today.
So that's an exclusive. Great! What tips can you offer a player when gambling online?
I would say the big tip is obviously choose your casino wisely if you are going for an online casino and there are a lot of casinos out there and not all of them are as reputable as others. Always look out for those casinos that operate within a strict regulatory framework such as Malta. Also ensure that the promotions are fair.
A lot of casinos these days offer large bonuses when you join the casino, but very few of them actually have a bonus which is fair in the sense that you can actually end up wagering it and redeeming it at the end of your play.
So always read the Terms and Conditions.
Always read the Terms and Conditions yes. If you don't speak English and come from a different country, it's always helpful to have customer support in that language. Always look for the games really, that's really important. One thing we do offer is that we allow people to play for free all the games we have available so there is no feeling of disappointment that if you come to play on Casino Euro for free then you pretty much have a very good idea of what people would like to play, and before even asking for any personal details online. That's really important.

What does Casino Euro do to ensure Responsible Gaming and gambling within players means?
Well I mean responsible gaming is an area that we take very seriously. It's an obligation we have in order to keep our licence in Malta. We have a department responsible for responsible gaming where we have one manager who takes care of responsible gaming issues, whether they are raised by the players themselves or if we catch them out through our alarm systems that somebody could be experiencing a responsible gaming issue.
Betsson Group, which Casino Euro forms part of, has won the latest AGR Award for Responsible Gaming Operator of the Year which we are actually quite proud of. Of course we have systems and means in place on the site so that players can limit their own play either in terms of the amounts they deposit. They also have the option to close their account or have a cool-off period where we will not allow them to join the casino for a specified period.
It's proactive approach then. What is the biggest current jackpot you offer players?
Well at the moment the largest one is on the Mega Fortune Slots jackpot, which is the one our Swedish jackpot winner won nine months ago. That's gone up to around €2.3 million, so that is quite high. We can already tell that the game has become fairly popular now once the jackpot reaches over €1 million. The popularity is very much linked to the level of the jackpot yes.
That's good to know. Can you tell me what the pay-out percentage is for your casino?
The casino as a whole I would say has a payout percentage of around 96.6 to 97.5%.
Ok, and which current promotions are you running?
Well today we'll be running promotions related to the game release "Secret Code", so we'll be sending out free spins to all of our existing players. We also have some special promotions towards our VIPs of course, who will be given better bonuses and bigger free spins. At the same time we've currently got a tournament happening to celebrate October Fest, which we now call October Best.  So there's a number of both slot games and table games which people can play and there's a prize pool of around €6,000 for the player who has the highest percentage payout. We'll be giving first, second and third prizes out of the €6,000 prize pool.
The third one which will be coming up, a bit of another exclusive, is that we'll be starting to run lotteries on our Live Casino promotion. As our players know, we launched Live Casino back in June. It's proved to be extremely popular, and now we want to add that extra level of excitement on Live Casino. It's not live yet, but eventually we will have a lottery whereby depending on how much people play on Live Casino, they are automatically entered into a lottery and they can win further prizes.
Excellent. Can you tell us about your future plans for Casino Euro?
I would say one thing we are definitely going to stick to is that our brand is always something we want to uphold and respect. For us, Casino Euro, we want our customers to feel that Casino Euro is a site that is extremely easy to navigate through, to use, to deposit and ultimately play.  We want it to be a place of excitement. Out of that comes a number of new game releases, and I think by releasing games every two weeks we have kept the casino quite fresh for both new players and existing players. Also one very important thing for us is to be localized, so we want to make our players feel that they are playing at a European Casino and that the site is in their preferred language and that there are their preferred games and their preferred deposit and withdrawal options.
In terms of future plans I can say that we intend to continue releasing more games as frequently as we are now. We have some concepts in the pipeline in terms of treating VIPs a bit better and giving them an even more exclusive service. We are also very interested in trying to emulate as much as possible the land-based experience also when it comes to the games. It'll be very interesting for us to make a casino player who is used to playing in a land-based casino come to Casino Euro and possibly find the exact same games. So that will be really interesting.
That sounds interesting. Are there any further things we have not covered that you would like our readers to know?
Well I would suggest that they register on Casino Euro if they haven't yet so far. We would like them to join. We have lots of promotions coming live and always with the new game releases I would ask them to stay tuned and see if there is a game they prefer. What is also really important for me is that I would like to hear from casino players. I would really like to understand what they like from an online casino, what they think we could improve on
Casino Euro
.
So leave your feedback...
Yes I would love customer feedback, that is really important for us.
Ok, thank you. So on behalf of the whole team at Onlinegamblingpal.com, I would like to thank you again Kevin for taking the time to answer our questions and for the unique insight you have given us into Casino Euro.
A pleasure! Thank you.
Good luck for the future!
Thanks!