Slots Explained
Slot machines are one of the most recognisable staples of casino gambling. 'Slots', as they're affectionately known, can be found in casinos, bars and restaurants. Slot machines are very popular worldwide. There are thousands of kinds of slot machines out there, each with its own style and theme. They are also known as 'fruit machines' in some parts of the world.

The boom in online gambling has also seen the popularity of slots increase. Online gambling has made it possible to play slots all day long – a dream come true for millions of slots lovers worldwide. Online casinos are adding new slots on a daily basis.
Slots: a brief history
In contrast to lots of other casino games, slot machines have an extensive history. Charles Fey, a German-born American engineer, developed the first slot machine in San Francisco in 1895. A few years later, Fey started his own slot machine production company, as demand for slots boomed.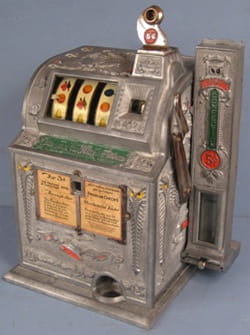 These early slot machines were purely mechanical. The introduction of electronics proved to be a big step forward for the slots industry. The slot machines as we know them today look a lot like the first slot machines ever made. Around 1990, the slot machines industry received another boost when online gambling started to take off. The online slots industry continues to expand worldwide.
Classic slots Vs. video slots
There are two types of slot machines. Besides the very popular internet video slots, there are also classic slot machines. Classic slots usually consist of three or four drums (sometimes known as 'rolls' or 'wheels') with the possibility of playing one to five lines. Video slots can be played with up to 30 lines. In this guide, we'll be focusing on classic slots.
Progressive jackpot
A progressive jackpot is a jackpot connected to several slot machines. For every wager placed on one of these slot machines, the progressive jackpot will grow a fixed amount. A progressive jackpot can grow to amazing amounts in short periods of time. Progressive jackpots exceeding $1,000,000 are quite normal. The progressive jackpot is only paid out on maximum line bets. So if you're interested in winning the progressive jackpot, play the slot machines with the maximum credit and lines.
Payout
No guide to slots would be complete without mentioning payouts. Unfortunately, information about slots payouts is kept secret by
online casinos
. There are almost no online casinos that share payout information with their players. According to estimations, the payout ratio of most online slot machines lies somewhere between 95% and 96%.
Slot rules explained
Slots are among the easiest games you'll find. The whole game is about creating a profitable combination of symbols across a winning line. Most slot machines offer multiple win lines. More lines can be used by raising your bet and selecting more credits.
By pushing the spin button, the slot machines start spinning. When the drums stop spinning, a row of symbols appear on your win lines. These symbols vary per slot machine. The symbols usually are some how connected to the theme of the slot machine. If the theme is ghost hunting for instance, it's likely that the manufacturers will choose ghosts as a symbol. Every slot machine has its own symbols. One of the symbols is the bug (also known as the 'wild') which can replace other symbols. Just like the symbols, the winning combinations vary per slot machine.
The winning combinations are always shown on the slot machine. The combination required to win the jackpot is also shown on the payout table. The jackpot is only paid out on maximum bets. Therefore, make sure to play with all lines when you're chasing the jackpot. Experts believe playing with maximum lines is also the best strategy to win prizes. The regular jackpot is not to be confused with the progressive jackpot. This is paid out on the combination that is shown on the slot machine.
Our recommendation
Playing online slots can be as much fun as playing land-based slot machines. Lots of online slot machines offer more features than the regular slot machines. And what about the bonuses given away by online casinos? There can be no doubt that online slots are the future!
For an unforgettable slots experience, we recommend you visit
Royal Panda
. With many progressive jackpot games and one of the widest range of online video slots, this is the place where big prizes can be won.
We hope that our slots explanation will help you when playing slots online. After reading this guide, you should now know a bit more about the history of slots, along with some other interesting slots facts. Visit our game rules section for more
casino game
guides!
Learn rules of other casino games:
Tequila Poker