Sports bettors cash £325,000 thanks to Belgium hat-trick
13-09-2016
Forwards need goals, Romelu Lukaku had been struggling for half a year to score. Last night however, the 23-year-old Belgian with Congolese roots managed to strike three times, which helped Everton to defeat the 'Black Cats'.
Two sports bettors scooped a £325,000 payout
thanks to the Lukaku's hat-trick.
Extremely gratifying hat-trick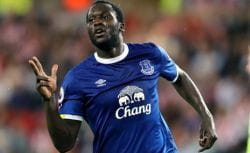 A spokesperson for one of the world's leading bookmakers noted that the fortunate duo benefitted from the so-called Hotshot Jackpot. That
dazzling windfall
, which had reached £325,000, is up for grabs if bettors correctly predict anytime goal scorers in all the designated Hotshot Jackpot matches. The PR coordinator added that the progressive prize now stands at £250,000, which definitely makes it tempting to
test your prediction skills
.
Betting ingrained in football
Sports betting
enjoys widespread popularity among gamblers from all over the world. Needless to say that the internet makes it extremely easy to place bets. Additionally, an increasing number of gambling companies offer sponsorships to football teams. Last season, all
Premier League
clubs had one or more gambling brands within their main pitch-side marketing. There were even several teams with sponsorships from five different betting companies.