Sports almanac remains in the future for sports betting fans
21-10-2015
Back to the Future is definitely one of the eighties' iconic movies. Marty McFly meets his future children in the second installment of the legendary movie. He seizes the opportunity to buy a Grays Sports Almanac, which would allow him to collect
stunning winnings
in the eighties.
Rewarding reading matter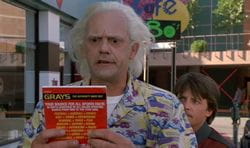 The sports almanac features the results of main sporting events between 1950 and 2000. However, his friend Dr. Emmett Brown doesn't appreciate the purchase and tells Marty that he shouldn't use
time travelling as a cash cow
. 'Doc' throws the sports almanac in the trash bin.
Evil plan
Biff Tannen happens to hear the conversation and decides to grab the book. Subsequently, the lazy bum steals the time machine to travel back to the year 1955. Biff hands the sports almanac to his younger self in an attempt to gain lots of
sports betting winnings
. His plan succeeds and when Marty travels back to the year 1985, Biff is an extremely rich man.
Dreaming about sports almanac
The rest is history, or should we say 'future'? One thing's for sure, predicting the results of sports betting events remains a fun pastime. The internet has added an exciting dimension to gambling, including
sports wagering
. Punters who like the Back to the Future movies can still dream about travelling to the future in order to obtain a sports almanac.