No punishment for stealing sports bettor from Gillingham
11-08-2016
A betting addict from Gillingham stole approximately £96,000 from the store where he worked to plug massive debts. Martyn Owenson definitely has a
weak spot for online soccer betting
, a habit that spiraled out of control. However, the 24-year-old walked out of court a free man.
£96,000 embezzlement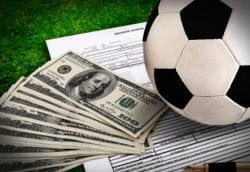 Owenson embezzled the cash in the period September 2013 – August 2014, when he worked at a Sittingbourne-based store. The
addicted sports bettor
embezzled the money by using forged sales documents and collecting fake refunds. Owenson came clean and admitted he had embezzled nearly £15,000, which was actually more than £96,000.
No more bets please
A judge at Maidstone Crown found that the 24-year-old man was undergoing treatment for his
out-of-control betting habit
. Additionally, Owenson has managed to find another job after he was sacked as a result of the theft. He wasn't aware of the magnitude of the embezzlement, which made him realize that his
sports betting
habit had become a serious problem. Owenson stated in court that betting was a thing of the past.