LA gambler scoops $5K thanks to Leicester City's triumph
04-05-2016
Claudio Ranieri's players have pulled off a true sporting miracle this season, which surprised everyone, including Shawn Wagner. Last summer, the gambler enjoyed a bachelor party in Sin City when he decided to bet on English soccer. That gamble definitely paid off as the 25-year-old has
crammed his wallet with a whopping $5,000
.
Inspired by booze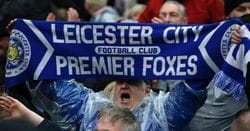 Wagner started to follow the Premier League back in 2014, and he fell in love with British soccer. When he noted the 1000-1 odds, he decided to place a $5 bet due to his weak spot for the underdog, while all the
alcoholic drinks also boosted his risk appetite
. At the time of his bet, Leicester City had won two games in a row.
Raising hope
The gambling fan from Los Angeles first thought that the fairytale would end around the turn of the year. However, the Foxes continued their winning streak, and an increasing number of soccer fans started to believe in
Leicester City
's miracle. Wagner remained skeptical as he feared that the Spurs would win the Premier League at the end of the day.
Hard to believe
Last Monday's clash between Chelsea and Tottenham seemed to mark the end of Leicester's title hopes. But after the Spurs' 2 – 2 draw with Chelsea, Jamie Vardy and his teammates celebrated the Premier League championship. Wagner couldn't believe it at first, but soon he realized that he had earned a cool $5,000 in cash. The punter from the US plans to use the money to enjoy some
casino gambling in Las Vegas
.